Need an easy way to satisfy your sushi craving during the week?  This casserole-style bake is your answer! It's like a deconstructed sushi roll with the same flavors from your favorite restaurant.
Servings: 6
Serving Size: 1 square (230g)
Prep Time: 45 minutes
Total Time: 1 hour
Nutrition Facts: 439 calories / 53g carbs / 23g protein / 15g fat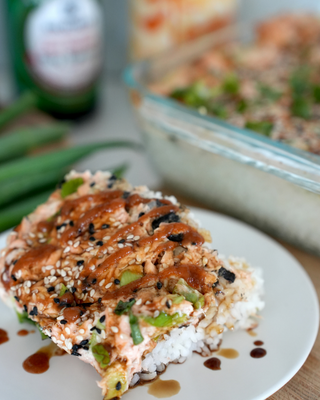 Ingredients:
2 cups (360g) dry sushi rice or short-grain white rice
16 oz salmon filet
2 tablespoons coconut aminos
⅓ cup rice vinegar
1 tablespoon of sugar
4 oz Philadelphia ⅓ Light cream cheese
2 sheets Nori
Sriracha
Green onions
Salt
Pepper
Sesame seeds
Instructions:
Preheat the oven to 400 degrees.
In a bowl or fine mesh strainer, wash the sushi rice until the water is clear and drain completely.
In a pot, add the rice and 1 ½ cups water and bring it to a boil over high heat. Then immediately turn to low and cover. Let simmer for 10 minutes. When it's done, remove from heat and let sit for another 15 minutes.
Meanwhile, put the salmon filet on a foiled baking sheet and season with salt, pepper, and 1 tablespoon of coconut aminos. Bake in the oven for 20 minutes.
Mix together the rice vinegar, sugar, and 1 teaspoon of salt until the sugar and salt are dissolved. Pour into the rice and mix well, then set aside.
When the salmon is done, flake it apart with a fork in a bowl.
Mix in cream cheese and half of the green onions and set aside.
Take the cooked rice and press it into a 9×9 baking pan. The flatter and more compact, the better!
Shred your nori by hand or with scissors and sprinkle over the top of the rice.
Next, layer the salmon mixture on top and spread evenly.
Top with sriracha, coconut aminos, sesame seeds, the other half of the green onion and bake in the oven for 15 minutes.
Let cool and serve!
Notes
You can substitute salmon for another fish such as tuna, but macros may vary.
You can substitute coconut aminos for soy sauce, but macros may vary.
You can make this ahead of time by assembling the rice and salmon mixture into the baking dish and bake before you are ready to serve.
Leftovers can be stored in the fridge for up to a week and reheated in the microwave.
You can skip the nori and sesame seeds and use furikake seasoning if you have it on hand.