Cheese and pepperoni are the best parts of a pizza, right? This dish doesn't skimp out on those best bits, but it does add some extra veggies and lean protein. And of course you can't go wrong with a time-saving casserole on a weeknight!
Servings: 8
Serving Size: 1 slice (329g)
Prep Time: 30 minutes
Total Time: 1 hour and 15 minutes
Nutrition Facts: 388 calories / 42g carbs / 27g protein / 13g fat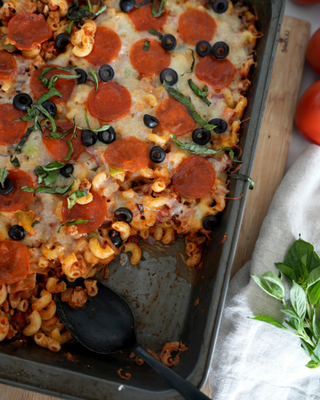 Ingredients:
12-ounces dry elbow pasta
1, 24-ounces jar "Bertoli" marinara sauce
2 cups (224g) "Kraft" Italian five cheese shredded cheese
1 pound 93% lean ground turkey
1 medium (110g) green pepper (diced)
8-ounces (226g) mushrooms (diced)
1 medium (128g) red onion (diced)
1-ounce turkey pepperoni
Sliced black olives (optional)
Fresh basil (optional)
Instructions:
Preheat the oven to 350 degrees F.
Cook the pasta according to package directions until al-dente (do not overcook!). Drain and set aside.
Next, brown the ground turkey in a pan and season with salt and pepper to taste.
Mix the cooked pasta, cooked turkey, green pepper, mushrooms, onion, and tomato sauce altogether in a large bowl.
Pour the mixture into a 9-inch x 13-inch baking dish and spread flat.
Top with cheese and pepperoni slices.
Cover with aluminum foil and bake for 30 minutes. Remove the foil and bake for another 10 minutes or until the cheese is melted and bubbly.
Top with optional fresh basil or black olives, as desired. Macros will vary.
Notes
You can substitute ground beef for ground turkey, but macros may vary.
Swap out the elbow macaroni for your favorite pasta!
Use any variety of marinara sauce but know that macros may vary across brands.
This recipe uses turkey pepperoni but any variety can be substituted. Macros may vary.