Can you name a better duo than peanut butter and banana? Ok, maybe peanut butter and chocolate but, hey, you can add some chocolate to this recipe! This low fat ice cream is perfect for you peanut butter lovers out there.
Servings: 4
Serving Size: 3/4 cup
Prep Time: 10 minutes
Total Time: 6 hours (including freezing time)
Nutrition Facts: 203 calories / 33g carbs / 11g protein / 3g fat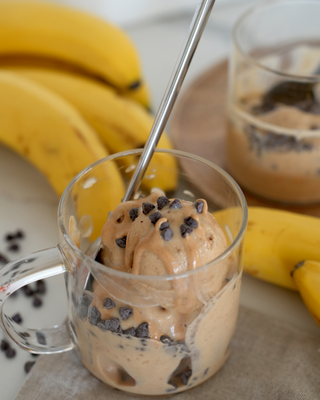 Ingredients:
4 medium (492g) ripe bananas, sliced and frozen
10 tablespoons (65g)"PB2" peanut butter powder 
½ cup (120g) water
Optional: 2 tbsps (30g) mini chocolate chips
Special Equipment:
High-powered blender or food processor
Instructions:
In a small bowl, mix the PB2 powder with water until you achieve a consistency that is similar to yogurt (slightly runnier than regular peanut butter).
Blend the peanut butter powder and frozen bananas on high speed until smooth and creamy. This may take up to 5 minutes (see recipe notes for troubleshooting tips).
Scrape the nice cream mixture into a freezer-safe dish. Add your preferred toppings!
At this point the nice cream will have a soft serve consistency. If you prefer a more frozen texture, freeze for at least 4-6 hours or overnight before serving.
Notes
Garnish with your favorite toppings like mini chocolate chips, nuts, or even more PB2!
Make this recipe dairy-free and vegan by using dairy-free chocolate chips or omitting them altogether.
For best results use a very high-powered blender (such as a Vitamix) or a food processor. If it takes longer than 5-7 minutes for your bananas to blend into a smooth puree, try adding 1-2 tablespoons of milk or milk substitute. Stirring the bananas occasionally with a spatula may also help.