No monkey business here! Just a delicious combination of bananas, oats, and nuts in this heart-healthy, fiber-rich, naturally gluten free cookie. Enjoy on their own as a snack or pair with yogurt for a quick breakfast.
Servings: 9 cookies
Serving Size: 1 cookie (52g)
Prep Time: 10 minutes
Total Time: 25 minutes
Nutrition Facts: 176 calories / 23g carbs / 8.5g protein / 5.5g fat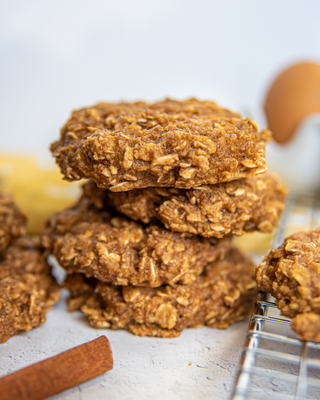 Ingredients:
1 large (136g) banana (mashed)
1 large (50g) egg
¼ cup (80g) maple syrup
1 1/2 cups (135g) rolled oats
½ cup (56g) ground almond flour
½ cup (64g) "PBfit" peanut butter powder
½ teaspoon ground cinnamon
¼ teaspoon baking soda
¼ teaspoon salt
Instructions:
Preheat the oven to 350 degrees F and line a baking sheet with parchment paper or a nonstick silicone mat.
In a small bowl, whisk together banana, egg, and maple syrup and set aside. In a separate large bowl, whisk together all remaining dry ingredients. Pour wet ingredients into the dry and mix to combine.
Drop heaping tablespoons of dough onto the prepared baking sheet and flatten slightly with the palm of your hand (if your dough is sticky, lightly moisten your hands with water before pressing them into shape). You will have 9 cookies.
Bake cookies for 10-12 minutes or until they start to turn a light golden brown around the edges. Let cookies cool for 5 minutes before transferring to a wire rack to cool completely.
Notes
To make this recipe vegan, substitute the egg with a 'flax egg.' To make a flax egg, stir together one tablespoon ground flaxseed meal with three tablespoons of water. Let sit in your fridge for 15 minutes to set up and thicken before using.
Cookies are best eaten within the first three days and can be stored in an airtight container in the fridge. Alternatively, they will keep in an airtight container in the freezer for up to 3 months.