Pho is an authentic Vietnamese beef noodle soup that often takes days to get just right. But don't worry; our version saves you time without sacrificing any of the flavor! This dish is light and healthy,  yet warms you from the inside out. Plus, all of the aromatic spices in the broth is what really makes it special. All you have to do is throw them into an Instant Pot and it will be ready in less than half an hour!
Servings: 4 bowls
Serving Size: 1 bowl (48g beef, 128g noodle, 444g broth)
Prep Time: 15 minutes
Total Time: 1 hour
Nutrition Facts: 321 calories / 54g carbs / 24.5g protein / 5g fat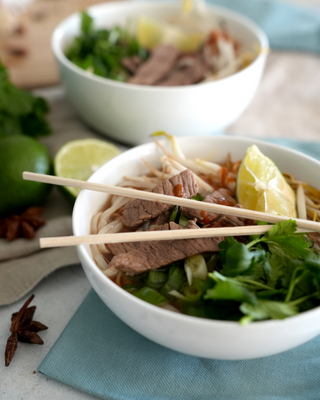 Ingredients:
8 cups (1808g) low sodium beef stock
1 medium (94g) white onion (quartered)
1 three-inch piece (28g) of fresh ginger (quartered)
5 whole cloves
4 star anise pods
2 cardamom pods
2 cinnamon sticks
2 tablespoons (30g) fish sauce
1 tablespoons (15g) packed brown sugar
2 teaspoons ground coriander
8-ounces (227g) raw top round beef
8-ounces (224g) uncooked rice noodles
Toppings: fresh onion, cilantro, bean sprouts, green onion, Sriracha
Instructions:
Add beef stock, quartered onion, ginger, spices (star anise, cloves, cardamom, cinnamon, coriander), fish sauce, and sugar to the Instant Pot.
Seal and cook on manual high pressure for 12 minutes, followed by a quick release.
Meanwhile, slice steak into very thin slices.
When the broth is finished, remove the ginger and spices (star anise, cloves, cardamom, cinnamon sticks) with a hand-held strainer. Immediately add sliced beef to the hot broth so it can cook.
Set a pot of water to boil, then add the rice noodles and cook according to package directions.
Add cooked rice noodles to a bowl, ladle in your pho broth with portions of beef and onion.
To make your pho extra authentic, top with fresh bean sprouts, cilantro, green onion, basil and Sriracha. They add minimal macros!
Notes
Store noodles and toppings separate from broth. Broth can be stored in an airtight container in the freezer for up to a month.
You can use any kind of steak you like, even pre-shaved beef. If you use steak, we recommend freezing it 30-60 minutes before you start cooking so it is easier to cut. The thinner the slices, the quicker the meat will cook in the broth.
You can substitute soy sauce for fish sauce if you are not able to find it. But we highly recommend the fish sauce, which you can usually find in the Asian aisle of your grocery store.
You can use whole coriander seeds if you prefer, but they are harder to strain out of the broth.