We put a chocolate twist on our fan-favorite macro bread to crush your cocoa cravings. This version uses chocolate protein, cocoa powder, and fresh zucchini to keep it macro friendly. A dash of instant coffee helps bring out the cocoa flavor, and offers a quick little pick me up.
Servings: 10 slices
Serving Size: 1 slice (96g)
Prep Time: 15 minutes
Total Time: 1 hour
Nutrition Facts: 181 calories / 27.5g carbs / 13g protein / 2.5g fat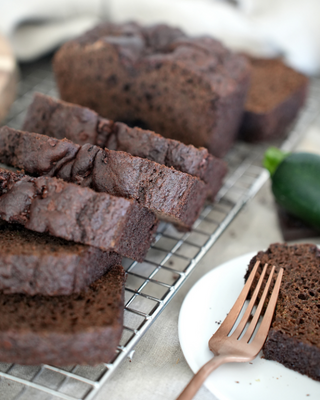 Ingredients:
1 small (109g) zucchini (grated)
3 large eggs (150g)
½ cup (122g) nonfat milk
1 cup (244g) unsweetened applesauce 4
¼ cup (85g) honey
1 teaspoon vanilla extract
1 ½ cups (180g) whole wheat flour
3 scoops (91g) Optimum Nutrition Gold Standard chocolate whey protein
½ cup (40g) cocoa powder
1 tablespoon baking soda
1 tablespoon baking powder
1 teaspoon instant espresso powder
½ teaspoon salt
Optional: 2 tablespoons semi sweet mini chocolate chips for topping
Instructions:
Preheat the oven to 350 degrees F and prepare a 9 x 5-inch loaf pan by spraying with nonstick cooking spray or lining with foil or parchment paper.
Whisk together the eggs, milk, applesauce, honey, and vanilla extract together in a large bowl. Add the dry ingredients (flour, protein powder, cocoa powder, baking soda, baking powder, espresso powder, and salt) and stir well with a fork.
Fold in the grated zucchini.
Pour the batter into the prepared loaf pan and bake for 35-40 minutes and a skewer or knife just comes out clean. It is difficult to tell when the top of the bake is browning because of the dark color, so if you feel like the top is cooked, you can cover it with foil until the inside is done baking.
Remove the loaf pan from the oven and place on a cooling rack for 15 minutes. Remove the loaf from the pan and cool to room temperature.
Slice into 10 slices and enjoy immediately, or store in an airtight container for up to a week or in the freezer for up to 3 months.
Notes
Sprinkle with optional toppings such as semi sweet mini chocolate chips or nuts. Macros will vary.