Loaded with chicken and baked to crispy perfection, this pizza is sure to become a household favorite. For best results, cook chicken the night before to allow it to absorb all that delicious buffalo flavor.
Servings: 6 slices
Serving Size: 2 slices (193g)
Prep Time: 15 minutes
Total Time: 1 hour
Nutrition Facts: 378 calories / 32g carbs / 26g protein / 17g fat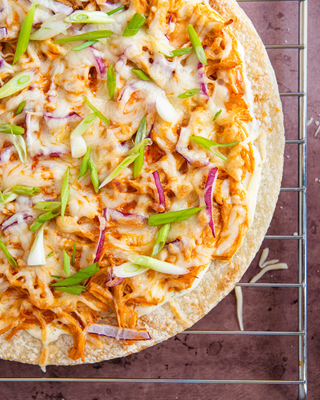 Ingredients:
1 lbs (454g) boneless, skinless chicken breast
½ cup (113g) 'Frank's Red Hot' buffalo wing sauce
2 (312g) 'Caulipower' cauliflower pizza crusts
6-ounces (168g) 1/3 less fat cream cheese
1 ½ teaspoon ranch seasoning
¼ large (57g) red onion (sliced)
1 cup (112g) shredded low-moisture part-skim mozzarella cheese
Instructions:
Add chicken and buffalo sauce to the bowl of the Instant Pot, turning the chicken so it's well-coated in sauce. Lock the lid in place and manually set to cook on HIGH for 10 minutes. Let the pressure release naturally before removing the lid (allow an additional 5 minutes for the buildup and release of pressure). Please see notes for additional options for preparing chicken.
Remove the chicken breast to a separate bowl and use two forks to shred it into bite-sized pieces. Pour remaining buffalo sauce from the Instant Pot over the chicken and allow it to sit for at least 15 minutes to reabsorb some of the sauce. The chicken may be covered and stored in the fridge overnight, if desired.
Preheat the oven to 425 degrees F and remove both 'Caulipower' cauliflower crusts from the freezer.
Place cream cheese in a microwave-safe bowl and microwave for 30 seconds. Stir in ranch seasoning and spread the mixture evenly over both cauliflower crusts, leaving the outer ½-inch of crust bare.
Divide the buffalo chicken evenly between the pizzas and top with sliced red onion and shredded mozzarella.
Place a foil-lined baking tray on the bottom rack of the oven to catch any drips, and bake pizzas directly on the middle rack of the oven for 12-15 minutes until the cheese is melted and the crust is crispy.
Cut each pizza into 6 pieces. Serve warm, garnished with chopped green onion, if desired.
Notes
Are you short on time or lacking an Instant Pot? Toss buffalo wing sauce with 12-ounces of pre-cooked or rotisserie chicken as an easy substitute. Macros may vary slightly.
Leftovers will keep wrapped in the fridge for up to three days.
Cooked buffalo chicken can be made up to 2 days ahead of time. Store in an airtight container in the refrigerator until ready to use.
For a more authentic buffalo chicken pizza, drizzle the fully baked pizza with low-fat blue cheese dressing, such as 'Bolthouse Farms' chunky blue cheese dressing.
Meal prepping? Double the recipe for the chicken and keep the rest for sandwiches, salads and wraps. On its own, buffalo chicken will keep up to five days when stored in an airtight container in the fridge.