Lightly sweet, plenty of protein, high in fiber, but most importantly, everyone's favorite pumpkin flavor!
Servings: 1
Serving Size: 1 jar (307g)
Prep Time: 5 minutes
Total Time: 4 hours +
Nutrition Facts: 340 calories / 41g carbs / 31g protein / 6g fat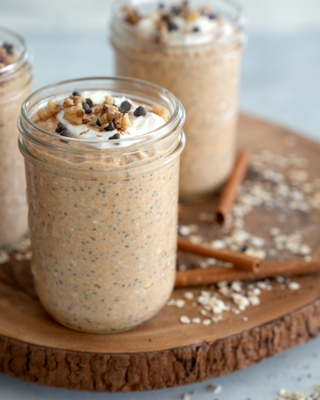 Ingredients:
1/3 cup (27g) old-fashioned oats
1/2 cup (123g) fat-free "Fairlife" ultra-filtered milk
1/4 cup (57g) nonfat plain Greek yogurt
1/4 cup (60g) pumpkin puree 
1 tablespoon (16g) "Optimum Nutrition" gold standard vanilla whey protein powder
1 tablespoon (12g) chia seeds
1 teaspoon (7g) maple syrup
1 teaspoon (5g) pumpkin pie spice
Instructions:
Mix all ingredients together in a jar or food prep container. Cover tightly and refrigerate overnight, or at least 4 hours.
Enjoy chilled. Top with extra yogurt, chocolate chips, or nuts (macros not included.)
Notes
Easily multiply the recipe to make a batch! Overnight oats will keep well for 3-5 days in the refrigerator.
Feel free to use any brand of protein powder you prefer. 
You can make this dairy-free by swapping regular milk for almond, oat, or soy milk. Macros will vary.