Skillet meals are great for weeknights. This one goes from start to finish in less than 30 minutes! Using cauliflower rice keeps the carbohydrates lower and adds another serving of vegetables.
Servings: 4 servings
Serving Size: 188g
Prep Time: 5 minutes
Total Time: 25 minutes
Nutrition Facts: 214 calories / 5g carbs / 24.5g protein / 11.5g fat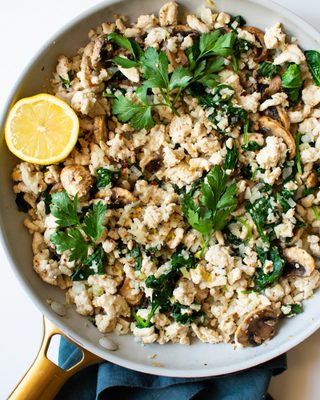 Ingredients:
1 tablespoon olive oil
1 small (33g) shallot (minced)
2 cloves garlic (minced)
1 pound (454g) 93% lean ground turkey
1 teaspoon salt
¾ teaspoon crushed red pepper flakes (optional)
1 cup (80g) button mushrooms (sliced)
2 cups (60g) raw baby spinach
1.5 cups (170g) frozen cauliflower rice
¼ cup (60g) chicken broth
Optional garnishes: lemon wedges, parsley
Instructions:
Heat olive oil in a large skillet over medium. Add shallot and garlic and cook 1-2 minutes until it starts to soften.
Add turkey and (cook for about 5-7 minutes). Season with half the salt. Add the red pepper flakes, if using.
Add the mushrooms and spinach. Stir well and let cook for a few minutes until mushrooms are cooked down and spinach is wilted. Add the cauliflower rice and broth. Stir and cover, letting it simmer for about 5 more minutes (or until liquid is mostly gone).
Season with the remaining salt. Top with chopped parsley and a squeeze of fresh lemon juice, if desired, before serving.
Notes
Frozen cauliflower rice is easy to find in the frozen produce section of most grocery stores. It will have more liquid when cooked, so you may need to simmer everything longer for the water to evaporate in step 3, than if you use fresh.
Looking to add an additional flavor punch? Consider adding lemon zest with fresh chopped rosemary, basil, marjoram, or oregano. Top with grated Parmesan or a shredded sharp white cheddar. Use a sprinkle of smoked paprika, dash of your favorite hot sauce, or drizzle of balsamic glaze. Macros may vary with additions.