These meatballs are anything but boring! A sticky soy ginger glaze coats the outside and adds a big flavor punch.
Servings: 20 meatballs
Serving Size: 4 meatballs (105g)
Prep Time: 10 minutes
Total Time: 35 minutes
Nutrition Facts: 296 calories / 20g carbs / 24g protein / 8g fat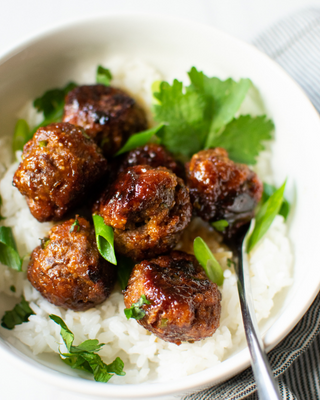 Ingredients:
1 pound 93% lean ground beef (454g)
1 large egg (50g)
½ cup plain bread crumbs (56g)
8 tablespoons (120g) less sodium soy sauce (divided)
2 teaspoons grated fresh ginger (divided)
2 cloves garlic (minced and divided)
½ teaspoon salt
2 green onions (thinly sliced, green parts only)
¼ cup (48g) brown sugar (packed)
1 tablespoon rice vinegar
Optional garnishes: green onions, cilantro
Instructions:
Preheat the oven to 400 degrees F. Line a baking sheet with parchment paper and set aside.
Add ground beef, egg, bread crumbs, 2 tablespoons soy sauce, 1 teaspoon ginger, 1 clove of garlic, the salt and the green onions to a large bowl and mix well. Use a 1.5 tablespoon cookie scoop to portion into balls on the baking sheet (roll between hands to make them more uniform in shape). Bake for 20-22 minutes or until browned and cooked to an internal temperature of 165 degrees F.
When there's 10 minutes remaining, make the glaze. Heat a large skillet over medium heat and add the remaining 6 tablespoons soy sauce, 1 teaspoon ginger, 1 clove minced garlic, brown sugar and rice vinegar. Stir frequently to prevent burning until bubbly. Reduce heat to a simmer.
Once the meatballs are finished cooking, add them to the skillet (if you don't have a large skillet you might need to do this in multiple pans or batches). Let cook for a few more minutes until the meatballs are well coated and glossy and the sauce is reduced by about half.
Serve over rice or cauliflower rice (macros not included). Garnish with additional green onions and chopped cilantro as desired.
Notes
Serve hot with toothpicks and extra green onions for garnish as an easy appetizer..
There are multiple options on the market for fresh ginger. Grate your ginger root fresh at home, purchase it in the jar or tube, or in frozen cubes of ginger pureé.