This protein-packed skillet cookie is a lighter take on chocolate chip cookies! It's ooey-gooey, made in one bowl, and cooked in a cast-iron skillet.
Servings: 4 servings
Serving Size: 1 slice (80g)
Prep Time: 5 minutes
Total Time: 17 minutes
Nutrition Facts: 296 calories / 48g carbs / 11.5g protein /  6g fat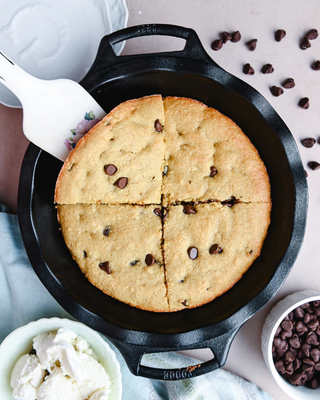 Ingredients:
1 cup (125g) all-purpose flour
4 tablespoons (48g) sugar
1/4 teaspoon baking soda
1/8 teaspoon salt
1 scoop (31g) "Optimum Nutrition Gold Standard 100% Whey", vanilla ice cream flavor
1 large (50g) egg (lightly beaten)
1/4 cup (61g) unsweetened applesauce
1/2 teaspoon vanilla extract
1/4 cup (61g) semi-sweet chocolate chips
Instructions:
Preheat the oven to 350 degrees F. Lightly coat a 6-inch cast iron skillet with nonstick cooking spray.
In a medium mixing bowl stir together the flour, sugar, baking soda, salt, and protein powder.
Add the egg, applesauce, and vanilla extract. Stir until combined. It should be a relatively wet dough.
Fold in the chocolate chips and use a spatula to spread the cookie batter into the skillet.
Bake for 11-13 minutes until the cookie is pulling away at the edges and the center is set. Let cool for 5 minutes before slicing and enjoying.
Serve with vanilla ice cream if desired. Macros not included.
Notes
This recipe can be doubled if only a 10-inch or 12-inch skillet is available.
For a higher protein cookie, add up to 2 scoops of protein powder.
For a gluten-free skillet cookie, use 1 cup of almond flour in place of all-purpose flour. Macros will vary.