Hummus and lemon juice combine to make a creamy sauce in this simple and flavorful vegetarian pasta recipe!
Servings: 4 servings
Serving Size: 2 heaping cups (228g)
Prep Time: 5 minutes
Total Time: 15 minutes
Nutrition Facts: 347 calories / 50.5g carbs / 14g protein / 10g fat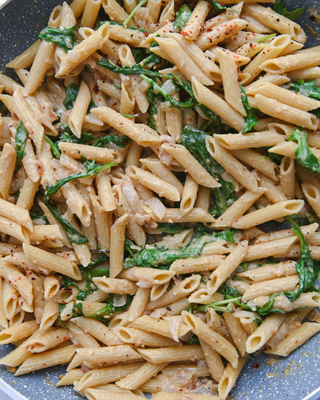 Ingredients:
8 ounces (224g) "Barilla" protein penne
1 teaspoon olive oil
1 small (60g) onion (diced)
2 cloves garlic (minced)
¾ cup (168g) "Sabra" plain hummus
¼ teaspoon salt
3 tablespoons lemon juice
2 ½ -ounces (71g) arugula or spinach
1 teaspoon lemon zest
Freshly ground black pepper, to taste
Red pepper flakes, to taste
Instructions:
Cook pasta according to package instructions. Reserve at least ½ cup of the water from the cooked pasta and set aside.
Heat a large non-stick skillet over medium-high heat. Drizzle with the olive oil.
Once hot, add the diced onion. Cook until golden, stirring occasionally, about 5-7 minutes.
Add in the minced garlic and cook 1-2 minutes more, until golden.
Reduce heat to medium-low. Add the hummus, salt, lemon juice, and ¼ cup of reserved pasta water. Stir until a sauce forms.
Stir in the arugula. Cover the pan with a lid to allow the arugula to wilt, about 2-3 minutes.
Once the arugula is wilted, remove the lid and stir in the cooked pasta. Add extra pasta water to thin sauce as needed.
Add lemon zest and season with black pepper or red pepper flakes to taste. Enjoy!
Notes
Any kind of hummus or pasta works for this recipe, but macros will vary based on ingredients used.