Inspired by Wendy's classic frosties, this creamy chocolate shake is a refreshing and high protein treat made using frozen bananas!
Servings: 2 servings
Serving Size: 1 smoothie (216g)
Prep Time: 5 minutes
Total Time: 5 minutes
Nutrition Facts: 273 calories / 36g carbs / 28.5g protein / 3g fat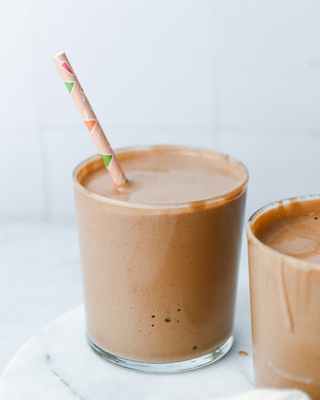 Ingredients:
2 medium (236g) bananas (sliced and frozen)
1/2 cup (122g) 2% milk
2 scoops (62g) "Optimum Nutrition Gold Standard" 100% Whey", vanilla ice cream flavor
2 tablespoons (10g) cocoa powder
1/2 teaspoon (2g) vanilla extract
1 tablespoon (16g) almond butter (optional)
Instructions:
Add all ingredients to a blender or food processor. Blend until thick and creamy. Enjoy immediately.
Notes
Ripe bananas can be sliced and frozen in an airtight container for easy access.
For an extra-chocolatey treat, consider using a chocolate protein powder over the vanilla flavor. Macros may vary slightly.
A single serving of this recipe can be made if using a small blender or food processor.
For a macro boost, consider adding 1 tablespoon of almond butter. Macros not included.