Do you suffer from the "dry/bland/overcooked chicken" curse? Look no further, this recipe is for you! This 5-Ingredient Smoky Baked Chicken is juicy, just a little bit spicy, and is guaranteed to turn out right every time. The secret? Searing the chicken in a hot, dry pan before baking. 5 ingredients, 30 minutes, and you're set!
Servings: 4
Serving Size: 105g cooked chicken
Prep Time: 10 minutes
Total Time: 30 minutes
Nutrition Facts: 168 calories / 0.5g carbs / 31g protein / 3.5g fat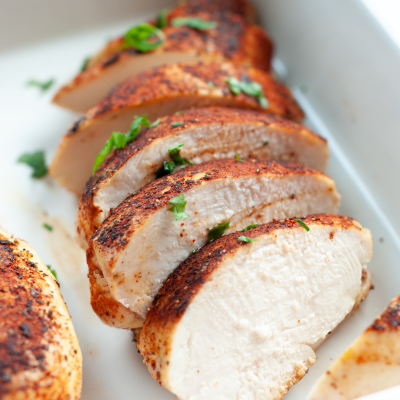 Ingredients
550g (about 1.25 lb) chicken breasts
1 teaspoon smoked paprika
½ teaspoon chili powder
¼ teaspoon salt
¼ teaspoon pepper
Instructions
Preheat oven to 350 degrees and line a large baking sheet with foil or parchment paper.
Mix the smoked paprika, chili powder, salt, and pepper together in a small bowl.
Pat each chicken breast dry with a paper towel. Season on both sides with the spice mixture.
Heat a large, dry non-stick skillet over high heat. When the pan is hot, place the chicken breasts in the pan and let cook (without moving or flipping) for about 1 minute. When the underside is golden brown, flip to the other side and let cook for another 1-2 minutes or until browned on the second side.
Place chicken on the prepared baking sheet and bake for 20-25 minutes (depending on the thickness of your chicken breasts), until the internal temperature registers 165 degrees and the inside is no longer pink.
Remove the chicken from the oven and let rest for at least 10 minutes (this is an important step for optimal juiciness – you won't be sorry!).
Enjoy along with your favorite sides, on top of a salad, in a sandwich or taco…the options are endless! Store in an airtight container in the refrigerator for up to 5 days or freeze for up to 3 months. Meal prep here we come!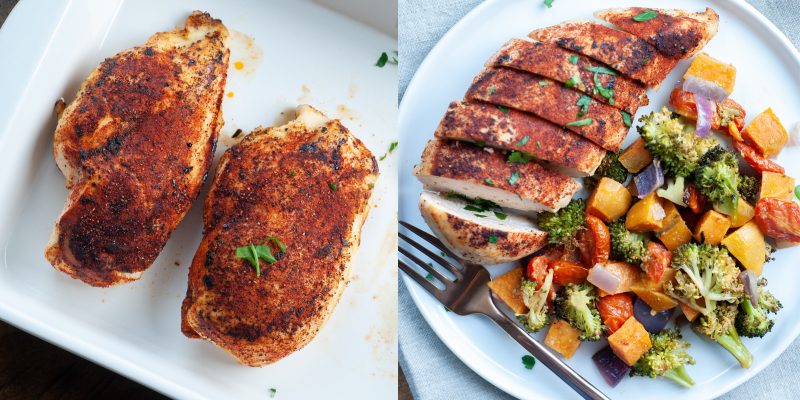 Notes
If using a regular (not non-stick) skillet, spray the skillet with a nonstick spray before cooking the chicken breasts. Good high-heat options include canola, avocado, or coconut oil cooking sprays.
If you like spicy flavors add a pinch of cayenne pepper or red pepper flakes to the spice blend.
Optional garnish: chopped parsley or cilantro.
In the last photo on the right, the chicken is paired with our Garlic Roasted Sheet Pan Veggies