Brownies = love. Especially when you can eat those brownies and hit your macros too! Treat your special someone (or yourself, sharing is always optional) to these cakey-yet-fudgy Macro Love Brownies. Cocoa powder and dark chocolate chips give them a rich chocolate flavor, which is intensified by fresh brewed coffee. Decorate the brownies with your choice of sprinkles, chocolate chips, chopped nuts, or nut butter swirls. We love pink sprinkles for an extra special Valentine's Day twist! Check out the recipe notes for gluten-free and vegan modifications.
Servings: 24 brownies
Serving Size: 1 brownie
Prep Time: 15 minutes
Total Time: 60 minutes
Nutrition Facts: 22g carbs / 1.5g protein / 6.5g fat / 146 calories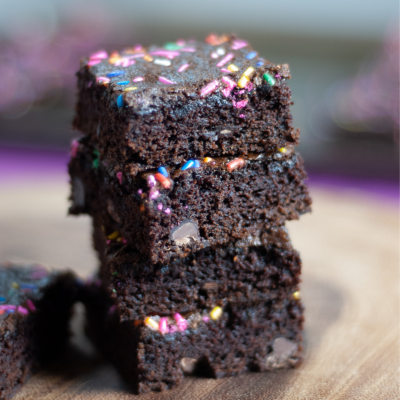 Ingredients
1 ⅓ cup (167g) all-purpose flour
1 teaspoon baking soda
½ teaspoon salt
¾ cup (60g) unsweetened cocoa powder
½ cup (119g) hot coffee
½ cup (109g) canola oil
2 large eggs (100g)
1 cup (200g) sugar
½ cup packed (110g) light brown sugar
2 teaspoons (9g) vanilla extract
5 tablespoons (70g) "Nestle" Toll House dark chocolate baking morsels
Sprinkles for decoration (optional)
Instructions
Preheat the oven to 350 degrees and prepare a 9×13-inch baking pan by lining with parchment paper or foil (this makes removing and cutting the brownies much easier!). See tips for lining the pan in the "Notes" section below.
Mix together the flour, baking soda, and salt in a large bowl.
In a medium bowl whisk the cocoa powder and hot coffee together until smooth. Let cool for 2-3 minutes before stirring in the canola oil, white and brown sugars, eggs, and vanilla. Mix well with a fork or whisk.
Add the wet ingredients to the dry ingredients. Mix with a fork or whisk until the flour is almost completely combined. Fold in the chocolate chips. Do not overmix.
Pour the brownie batter into the prepared pan and smooth the surface. Sprinkle the sprinkles on top.
Bake for about 28-30 minutes or until a toothpick comes out clean with just a crumb or two. Be careful to avoid overbaking- start checking the brownies about 5 minutes before you think they're going to be done!
Remove from oven and cool completely on a wire rack. For the cleanest edges, refrigerate the brownies for 30-60 minutes before slicing.
When you're ready to cut the brownies, remove them from the pan by lifting the parchment paper or foil overhang. Place on a large cutting board. Use a sharp knife to cut 6 rows of 4 brownies for a total of 24 even brownies. Wipe knife clean with a paper towel between cuts if necessary!
Store brownies at room temperature for 3-5 days, in the refrigerator for up to a week, or in the freezer for 3 months. YUMMMMM.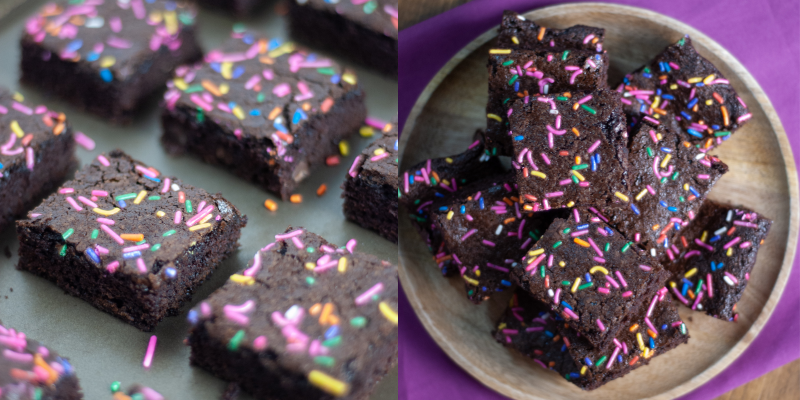 Notes
To make dairy-free be sure to use dairy-free dark chocolate chips (such as "Guittard" extra dark chocolate chips).
To make vegan with macros: 139 calories / 21.5 g carbs / 1.5g protein / 6g fat
substitute 4 tablespoons ground flaxseed and ⅓ cup water for the eggs
use "Guittard" extra dark chocolate chips
3. To make gluten-free with macros: 150 calories / 23g carbs / 1.5g protein / 6.5g fat
substitute a gluten-free baking flour (such as "Bob's Red Mill 1-to-1 baking flour") for the all-purpose flour.
4. If you don't have fresh brewed coffee on hand (or don't feel like making any), you can also use instant coffee granules. Prepare ½ cup per package directions. Another substitution option is boiling hot water.
5. The best sprinkles for baking are "jimmies", as shown in the photos. They don't melt in the oven like some of the other types! Other decorating ideas are: chopped nuts, chocolate chips, peanut butter chips, or nut butter swirls (add all toppings prior to baking).
6. A tip for lining a baking pan with parchment paper: cut the paper slightly larger than the baking dish so you will have about a 1" overhang on all sides. Press the paper down into the baking pan and then cut 2-inch slits in each corner. This allows the corners of the parchment paper to "fold" to create a good fit.