Calling all meal preppers! These Garlic Roasted Sheet Pan Veggies are jam-packed full of flavor with minimal effort required. We're keeping things simple with cherry tomatoes, broccoli, sweet potatoes, and onions- all roasted to sweet perfection. Enjoy alongside your favorite protein OR get crazy and make a veggi-licious breakfast egg scramble. The world is your oyster!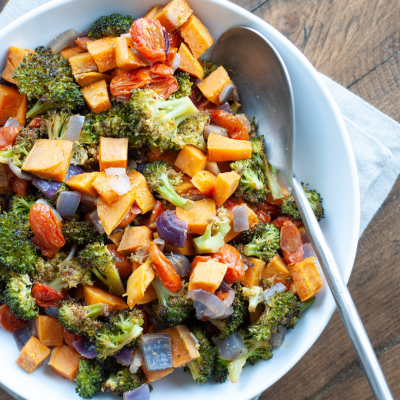 Servings: 4
Serving Size: 180g (about 1 ⅓ cup)
Prep Time: 10 minutes
Total Time: 55 minutes
Nutrition Facts: 144 calories / 30g carbs / 5g protein / 2g fat
Ingredients
1 12-oz bag (340g) broccoli florets
400g sweet potato (peeled and diced into ½-inch pieces)
1 pint (290g) cherry or grape tomatoes
150g red onion (chopped)
1 ½ teaspoons garlic powder
1 teaspoon avocado oil
½ teaspoon salt
Nonstick cooking spray
Instructions
Preheat oven to 375 degrees and line a large baking sheet with foil. Spray with nonstick cooking spray.
Trim broccoli florets into 1-inch pieces and place onto baking sheet. Slice the tomatoes in half and add to baking sheet along with diced sweet potato and onion.
Sprinkle the garlic powder, oil, and salt onto the veggies. Toss until all the oil and seasonings are evenly distributed.
Roast for 20-25 minutes, stir, and then roast another 20 minutes or until the veggies are cooked through and golden brown around the edges.
Store leftovers in an airtight container in the refrigerator for up to 5 days.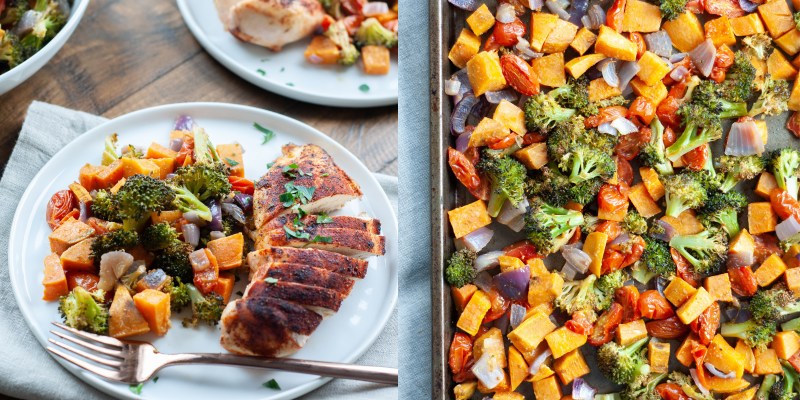 Notes
You can substitute any oil (canola, olive, coconut) for the avocado oil.
Roasted veggies are so versatile- customize the seasonings to your heart's content! Other macro-friendly flavor ideas are: dried rosemary, dried thyme, Cajun seasoning, fresh sliced garlic, lemon juice, red pepper flakes (if you like spicy!), or curry powder.