This healthy Turkey Egg 'n Cheese Breakfast Sandwich is THE make-ahead recipe that every busy Macrostaxer should have on hand! Assemble 4 (or 8…or 12) sandwiches in less than 30 minutes, stash them in the freezer, and you have breakfast ready for those run-outta-the-door kinda mornings. This 26C/29P/13F recipe is kid-friendly, portable, and easy on the wallet too. Check out the recipe notes for easy dairy- and gluten-free modifications.
Servings: 4 sandwiches
Prep Time: 5 minutes
Total Time: 20 minutes
Nutrition Facts: 331 calories / 25.5g carbs / 29g protein / 12.5g fat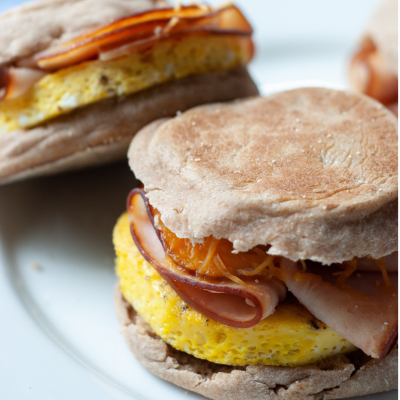 Ingredients
4 "Thomas" 100% whole wheat English muffins (228g)
6 eggs (300g)
¼ cup (62g) nonfat milk
12 slices (252g) "Hormel" Natural Choice smoked turkey
¼ cup (28g) "Kraft" shredded low-fat cheddar cheese
Salt and pepper
Nonstick canola spray
Optional: "Everything bagel" seasoning
Instructions
Preheat the oven to 350 degrees and spray a 8×8-inch baking pan with nonstick cooking spray.
Whisk the eggs, milk, and salt and pepper in a small bowl. Pour into the prepared baking pan.
Bake for about 12-14 minutes or until the eggs are puffy and set. Remove from the oven and cool to room temperature on a cooling rack. Slice the baked eggs into 4 even squares or use a round cookie cutter to cut into 4 circles.
To assemble the breakfast sandwiches: on each English muffin bottom half place 1 cooled egg portion, 3 slices of turkey, and 1 tablespoon (7g) shredded cheese. Sprinkle with "Everything bagel" seasoning if using.
If you're going to eat the sandwiches immediately, transfer the loaded English muffin halves to a baking sheet and heat under the oven broiler for 3-4 minutes or until the cheese is melted. Top with remaining English muffin half.
If you're going to freeze the sandwiches for later, top with the other English muffin half, wrap each breakfast sandwich individually in foil, and then place in a zip-top freezer-safe plastic bag. Freeze for up to 3 months.
To defrost unwrap the foil, and wrap with a paper towel, and microwave on high for 1:00-1:30 or until heated through and the cheese is melted.
Notes
For a gluten-free variation with macros: 391 calories / 35.5g carbs / 30g protein / 14.5g fat:
Use 4 "Udi's" gluten-free whole grain English muffins
2. For a gluten AND dairy-free variation with macros: 368 calories / 37.5g carbs / 26g protein / 12.5g fat:
Use 4 "Canyon Bakehouse" gluten-free original English muffins
Swap the milk for ¼ cup unsweetened almond milk
Leave out the cheese
3. "Everything bagel" seasoning has 0 macros, so feel free to season to taste OR omit completely. If you don't have this seasoning on hand, try substituting with a light sprinkle each of garlic powder and onion powder. Other flavor options are hot sauce or red pepper flakes.
4. Toasting the English muffins is completely optional!
5. If you use a round cookie cutter to cut egg rounds be sure to slip the extra cut-off edges into your breakfast sandwiches, too. Gotta get every bite of that protein goodness 🙂