This lightened up Lean Green Chicken Pesto Pasta tastes like spring in a bite. A quick low-fat pesto, tossed with chickpea pasta, chicken, and fresh mozzarella – you got yourself a flavorful and nutritious meal in under 30 minutes!
Makes: 5 servings (just over 8 cups)
Serving Size: 180g (just over 1 ½ cups)
Prep Time: 15 minutes
Total Time: 30 minutes
Nutrition Facts: 244 calories / 22.5g carbs / 20.5g protein / 10g fat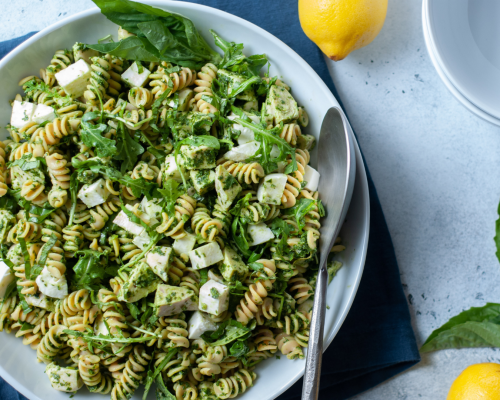 Ingredients
Kale Pesto
3 cups (48g) raw kale (stems removed)
2 cup (12g) fresh basil
2 tablespoons (28g) olive oil
3 tablespoons lemon juice
3 garlic cloves
¼ teaspoon salt
Pasta Salad
2 cups (280g) cooked chicken breast (diced)
6 oz (176g) uncooked "Barilla" rotini chickpea pasta
1 cup (20g) arugula or baby spinach
3oz (84g) "Bel Gioioso" fresh mozzarella (diced)
Optional: additional basil leaves or red pepper flakes for garnish
Instructions
Make the pesto by adding the kale, basil, olive oil, garlic cloves, lemon juice, and salt to a food processor. Blend until smooth. Season to taste with additional salt and pepper.
Cook pasta according to package directions. Strain, reserving ¼ cup cooking liquid.
In a large bowl, mix together the cooked pasta, diced chicken, pesto, arugula or spinach, reserved pasta liquid, and mozzarella and toss until combined. Sprinkle with extra chopped basil or red pepper flakes (if desired).
Serve chilled or warm. This pasta salad is delicious on its own, as a salad mix-in, or as a side! Store leftovers in an airtight container in the refrigerator for 3-5 days. Enjoy!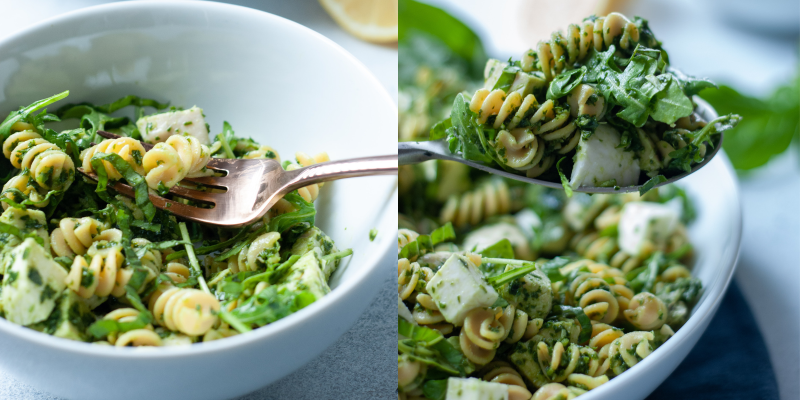 Notes
To make dairy-free leave out the mozzarella. The macros for a 1 ½ cup serving are: 23.5C/17.5P/8.5F (223 calories).
You can substitute baby spinach for the raw kale in the pesto – the macros will be almost identical!
Try doubling the pesto recipe and using leftover pesto as a sandwich spread, pizza sauce, or chicken, steak, or fish topping.