These garlic steak bites are so easy, you won't be able to help but use them for dinner as well as your next party! Ready in just 15 minutes, just season and throw them in the air fryer but little protein bites that are bursting with a savory garlic flavor.
Servings: 8 servings
Serving Size: 1/8 recipe (58g)
Prep Time: 5 minutes
Total Time: 15 minutes
Nutrition Facts:  131 calories / 0.5g carbs / 15g protein / 9.5g fat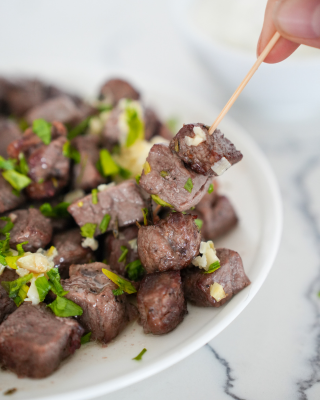 Ingredients:
1 lb (16-ounces) top sirloin steak
1 teaspoon salt
½ teaspoon ground black pepper
1 teaspoon fresh rosemary (minced)
1 tablespoon butter
2 cloves garlic (minced)
1 tablespoon chopped fresh parsley (optional)
Instructions:
Slice the steak into small 1-inch cubes and season with salt, pepper, and rosemary.
Preheat the air fryer to 400 degrees for 5 minutes.
Place the steak bites into the air fryer and cook for 8 minutes, shaking the pan about halfway through.
Meanwhile, melt the butter in the microwave and add the minced garlic.
When the steak bites are done, add the garlic butter to the steak bites and stir to coat evenly.
Sprinkle with freshly chopped parsley (if using) and serve!
Notes:
Substitute any dried herb (thyme, marjoram, oregano) for rosemary. Recommend reducing the amount of herbs by half if using the dried variety. Macros will be the same.