With fresh broccoli, cheese, and ranch seasoning, there's a lot of flavor packed into these bite-sized morsels! Cook these in your air fryer, and you have a deliciously crispy and kid-friendly snack in under 10 minutes.
Servings: 10 servings (40 tots)
Serving Size: 4 tots (68g)
Prep Time: 20 minutes
Total Time: 30 minutes
Nutrition Facts:  126 calories / 12g carbs / 8g protein / 4g fat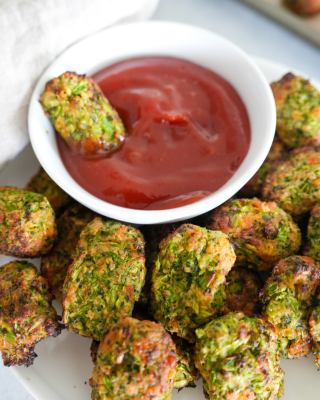 Ingredients:
1 large (24-ounce/680g) bag of broccoli florets
1 teaspoon salt
½ teaspoon ground black pepper
2 large (100g) eggs
1 cup (112g) "Kraft" 2% shredded cheddar cheese
1 cup (112g) "Progresso" Italian breadcrumbs
1 packet (28g) "Hidden Valley" Ranch seasoning mix
Olive oil cooking spray
Instructions:
In a food processor or high-speed blender, pulse broccoli florets until finely minced.
Place a large skillet on medium heat and spray with olive oil spray. Add broccoli and season with salt and pepper, and cook until bright green, about 2-3 minutes.
Transfer broccoli mixture to a large bowl. Make a well in the center, add the eggs and mix together with a fork until combined.
Mix in cheddar cheese, breadcrumbs, and ranch seasoning.
Form the mixture into 40 small balls, and lightly shape the balls into tater tot shapes.
Arrange broccoli tots in a single layer in the air fryer. Cook in multiple batches if there's not enough room.
Coat the tots with olive oil cooking spray and bake at 400 degrees F for 8 minutes.
Serve with ketchup or other dipping sauce as desired. Macros not included.