These breakfast bombs will blow you away! Pillowy-soft dough from our popular Cheesy Everything Protein Bagels are stuffed with eggs and ham, making these a perfect on-the-go high-protein breakfast.
Servings: 6 bombs
Serving Size: 1 bomb (78g)
Prep Time: 20 minutes
Total Time: 1 hour
Nutrition Facts:  216 calories / 23g carbs / 16.5g protein / 6.5g fat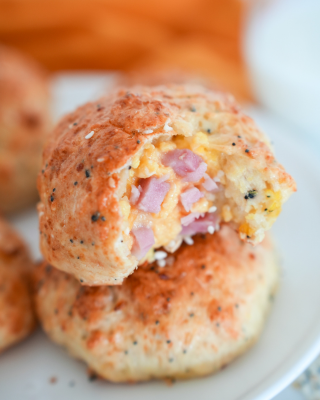 Ingredients:
For Cheesy Everything Protein Bagels:
1 ¼ cup (156g) all-purpose flour
1 tablespoon nutritional yeast (optional)
2 teaspoons baking powder
¼ teaspoon salt
1 cup (226g) low fat cottage cheese
½ large egg white (17g), (lightly beaten)
2 teaspoons everything bagel seasoning
For Filling: 
6 (300g) large eggs
3-ounces (84g) "Hormel" premium diced ham
Instructions:
Preheat the oven to 375 degrees.
Crack the eggs in a large mixing bowl and whisk together.
Heat a large nonstick skillet over medium low heat and pour the eggs in. Stir slowly for 5-10 minutes until eggs are scrambled.
Remove from heat just before fully cooked so they are still slightly wet. We want to let them cook more in the oven!
Prepare Cheesy Everything Protein Bagels by whisking together flour, baking powder, nutritional yeast (if using), and salt. Fold in the cottage cheese.
Turn the dough out onto a lightly floured work surface and knead until the dough is supple and tacky but no longer sticky. It will take about 5 minutes for the cheese curd to slowly break down and incorporate into the flour. Add a little more flour, if necessary, to make the dough less sticky and easier to handle (extra flour not calculated in macros).
Divide dough into six equal parts. Roll each portion of dough into a ball press into a flat disc about ¼" thick.
Fill each disc with a portion of scrambled eggs and diced ham. Then, fold the edges of the disc over the top of the filling to create a ball or "bomb" shape.
Brush the tops of the "bombs" with the egg white and top with a little extra everything bagel seasoning!
Bake for 24-26 minutes, or until bombs are puffed and golden.
Let cool for 5 minutes and enjoy!
Store in an airtight container and eat these on-the-go in the mornings.
Notes
Reheat in the microwave for 15-20 seconds, or until heated through, being careful not to overcook and dry out the breakfast bombs.