Nestled into a spiced rice with tomatoes, bell peppers, and onions, these juicy chicken thighs are bursting with Cajun flavor and make an easy dinner to put together.
Servings: 6 servings
Serving Size: 1/6 recipe (116g chicken thigh and 183g rice)
Prep Time: 30 minutes
Total Time: 60 minutes
Nutrition Facts:  443 calories / 48g carbs / 34.5g protein / 11g fat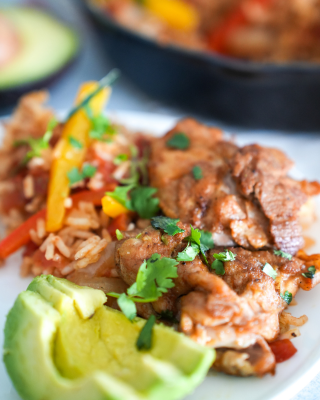 Ingredients:
2 tablespoons (27g) olive oil
6 pieces (32-ounces/ 896 g) boneless, skinless chicken thighs
3 tablespoons (40g) Cajun seasoning (divided)
1 ½ cups (270g) uncooked white long-grain rice
2 cups (480g) low sodium chicken broth
1 can (14-ounces) diced tomatoes
1 large (186g) red bell pepper (julienned)
1 large (186g) yellow bell pepper (julienned)
1 large (186g) yellow onion (julienned)
Instructions:
Add the olive oil to a large skillet and place on medium high heat.
Rub and season the chicken with two tablespoons of the Cajun seasoning and add to the skillet. Let cook for 6-8 minutes without disturbing. Flip and cook for another 8-10 minutes.
Once cooked thoroughly, remove from the skillet and set aside.
Add the rice, chicken broth, tomatoes, bell peppers, onions, and remaining tablespoon of Cajun seasoning to the skillet. Stir to mix well and bring to a boil.
Reduce heat to medium low and cover for 20-25 minutes until all of the liquid is absorbed.
Add the chicken back to the pan and cover until the chicken is heated to 165 degrees, about 5 minutes.
Remove the lid, garnish with fresh parsley and serve.