Spicy, salty, roasty, soft, crunchy, and citrusy, these tacos have everything … plus, they're vegan!
Servings: 6 tacos
Serving Size: 1 taco (214g)
Prep Time: 15 minutes
Total Time: 45 minutes
Nutrition Facts:   258 calories / 37g carbs / 13.5g protein / 6.5g fat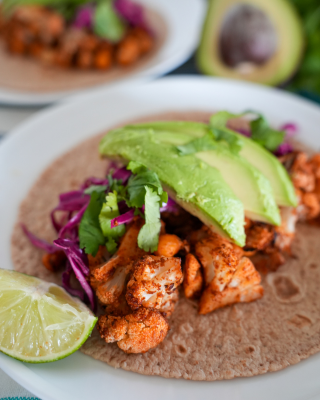 Ingredients:
¼ (60g) cup apple cider vinegar
6 tablespoons (91g) fresh lime juice (divided)
1 tablespoon agave syrup
1 ¼ teaspoon salt (divided)
1 large (8-ounce) bag red cabbage slaw
2 teaspoons chili powder
2 teaspoons ground cumin
1 teaspoon paprika
¼ teaspoon garlic powder
¼ teaspoon onion powder
1 tablespoon olive oil
1 large 24-ounce bag (680g) cauliflower florets
1 15-oz can (253g) chickpeas (drained and rinsed)
6 (258g) "Mission" Protein Plant Powered tortillas
Instructions:
Preheat the oven to 425 degrees.
In a bowl, whisk together apple cider vinegar, 2 tablespoons lime juice, agave, and ¼ teaspoon salt. Add shredded cabbage, coating evenly and set aside.
In another bowl, combine 4 tablespoons lime juice, and olive oil, chili powder, cumin, paprika, remaining 1 teaspoon of salt, garlic powder, onion powder.
Add chopped cauliflower florets and chickpeas to the bowl and mix well to coat evenly.
Place cauliflower and chickpeas on a greased baking sheet and roast for 30 minutes, stirring occasionally during cooking, until chickpeas are slightly crispy and cauliflower is tender.
Let cool for 5 minutes.
To prepare taco, take a tortilla and fill with roasted cauliflower and chickpeas and the red cabbage slaw. Garnish with jalapeno, avocado, and cilantro as desired (macros not included) and enjoy!
Notes
Feel free to use any variety of prepackaged, undressed coleslaw mix.