What's not to love about these light and refreshing Vietnamese-inspired spring rolls? Fresh veggies and shrimp make these high-protein, low-fat rolls the perfect macro-friendly lunch or snack.
Servings: 16 rolls
Serving Size: 1 roll (140g)
Prep Time: 30 minutes
Total Time: 30 minutes
Nutrition Facts:  86 calories / 7.5g carbs / 12g protein / 0.5g fat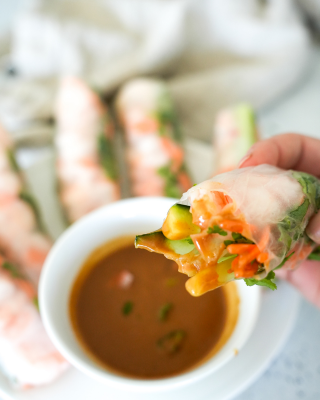 Ingredients:
16 wrappers/ 1 package (136g) "Blue Dragon" spring roll wrappers
32-ounces (896g) cooked shrimp (peeled and deveined)
1 medium (201g) cucumber
4-ounces (112g) shredded carrots
1 cup fresh cilantro (chopped)
Instructions:
Slice shrimp lengthwise into halves.
Cut cucumber, ensuring seeds are removed and julienne into strips.
Prepare the spring roll wrappers by filling a large bowl with warm water.
Prep rice paper wrappers according to package directions by dipping the wrapper into warm water, ensuring it is completely submerged. Let sit until pliable, and then place on a tea towel to blot.
Fill each wrapper with 4-ounces of shrimp, approximately 8-10 shrimp halves, cucumber, carrots, and cilantro. Begin to roll until halfway, fold in the sides, and finish rolling tightly.
Dip with Sriracha, chili sauce, or peanut sauce and enjoy. Macros not included.
Notes
You can replace shrimp with another lean protein, such as chicken breast, and add as many veggies or herbs as desired. Consider adding scallions, bean sprouts, fresh mint or basil.
Be careful not to add too much filling or the delicate wrappers will tear.
Rolls are best enjoyed the same day but can be stored in the refrigerator for up to 3 days by individually wrapping each one in plastic wrap so they don't stick together.