Trust us, this Mediterranean flavored dip is going to be a hit at your next party. With layers of creamy hummus, tzatziki and sprinkled with fresh veggies, dip away with pita chips for a refreshing take on a classic party pleaser!
Servings: 10 servings
Serving Size: 1/10 recipe or 80g
Prep Time: 5 minutes
Total Time: 5 minutes
Nutrition Facts:  108 calories / 5.5g carbs / 3.5g protein / 8g fat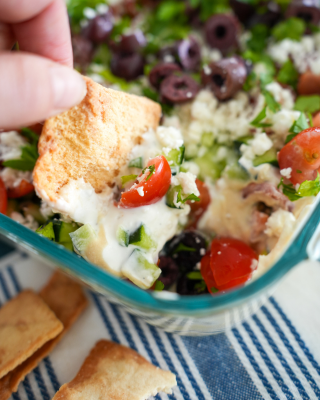 Ingredients:
8-ounce (228g) "Sabra" classic hummus
8-ounce (228g) "Boar's Head" tzatziki Greek yogurt dip
1 cup (104g) cucumber (chopped)
1 cup (149g) cherry tomatoes (chopped)
2-ounces (56g) "Athenos" crumbled feta
¼ cup (33g) pitted Kalamata olives (sliced)
2 tablespoons fresh parsley (chopped)
Instructions:
Prep an 8-inch x 8-inch dish.
In the order listed, evenly layer the hummus, tzatziki, chopped cucumbers, chopped tomatoes, feta, and olives.
Garnish with fresh chopped parsley.
Serve with fresh veggies, pita chips, or sliced pita bread squares (macros not included) and enjoy!
Notes
For best results, prep right before serving. Prepping this ahead of time or overnight will result in the fresh vegetables becoming watery.
Use any brand of hummus or tzatziki but know that macros may vary slightly across brands.