Here's our take on this trendy high-protein, frozen treat! It's remarkably rich and creamy, you won't even notice it's cottage cheese. Added fresh strawberries and crushed graham crackers are the perfect complement for a dessert that reminds you of a classic cheesecake.
Servings: 6 servings
Serving Size: 1 serving (106g)
Prep Time: 15 minutes
Total Time: 4 hours 15 minutes
Nutrition Facts:  131 calories / 18.5g carbs / 10g protein / 2g fat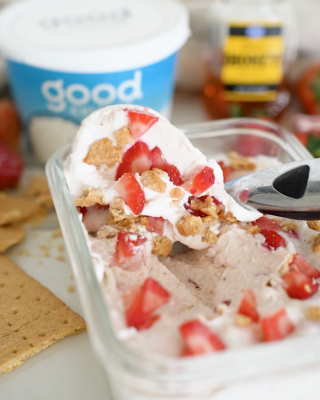 Ingredients:
2 cups (440g) "Good Culture" low fat cottage cheese
¼ cup (85g) honey
½ cup (83g) strawberries (chopped and divided)
2 sheets (30g) "Honey Maid" original graham crackers (crushed)
Instructions:
Combine cottage cheese, honey, and ¼ cup strawberries in a food processor or high speed blender until completely smooth.
Gently fold in remaining chopped strawberries and crushed graham crackers and transfer mixture to a freezer-friendly container. Sprinkle any extra strawberries or graham crackers on top.
Freeze at least 4 hours or until hard.
When ready to serve, remove from the freezer and let thaw for 5-10 minutes until it's easily scoopable.
Notes
You can swap low-fat cottage cheese for fat-free or whole milk varieties. Whole milk cottage cheese will result in a slightly creamier ice cream, whereas fat-free has more water content and it will be a slightly icier ice cream. Macros will vary.
Use any berry in this recipe with negligible changes to macros.