Is there anything more summery than bright tangy flavors of fresh citrus? This mojo marinade, inspired by Cuban cuisine that uses Seville oranges, is bursting with citrus, garlic, herbs, pepper, and spice in every bite that is sure to take your meal prep to the next level.
Servings: 4 bowls
Serving Size: 1 bowl (376g – 65g beans, 158g rice, 153g chicken)
Prep Time: 20 minutes
Total Time: 3+ hours
Nutrition Facts:  404 calories / 63g carbs / 34g protein / 8.5g fat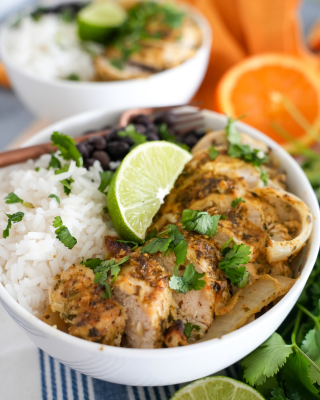 Ingredients:
16-ounces (448g) boneless, skinless chicken breast
1 medium (94g) yellow onion (sliced)
⅓ cup (76g) fresh orange juice
¼ cup (60g) fresh lime juice
¼ cup cilantro
4 cloves garlic (peeled and diced)
2 tablespoons (27g) olive oil
1 tablespoon lime zest
1 tablespoon orange zest
2 teaspoons ground cumin
2 teaspoons dried oregano
1 ½ teaspoons salt
1 teaspoon ground black pepper
4 cups (632g) prepared white rice
1 cup (260g) black beans (drained)
Instructions:
Place raw chicken and sliced onions in a deep baking dish or large plastic bag.
Zest the orange and limes, saving approximately 1 tablespoon of each zest.
Cut the orange and limes in half and juice them, saving approximately ⅓ cup fresh orange juice and ¼ cup fresh lime juice.
In a food processor, blend together freshly squeezed orange juice, freshly squeezed lime juice, cilantro, garlic, olive oil, orange zest, lime zest, cumin, oregano, salt, and pepper.
Portion out ¼ cup marinade and set aside.
Pour the remaining marinade onto the chicken and onions and let marinate in the refrigerator for at least 2 hours, or up to 12.
When ready to cook the chicken, take it out of the refrigerator and preheat the oven to 350 degrees.
Spread the marinade, chicken, and onions on an even layer into a prepared baking dish and bake for 35-40 minutes uncovered until the internal temperature of the chicken breast is 165 degrees.
Let cool for 5 minutes before slicing.
Heat white rice and black beans. Serve chicken drizzled evenly with remaining mojo marinade.
Notes
Leftover chicken can easily be used to add flavor and protein to salads or wraps.