There's no right or wrong way to make Nashville hot chicken, but our version uses sweet honey to balance out the signature heat, plus an air fryer for a lighter take on a favorite spicy Southern meal.
Servings: 4 servings
Serving Size: 1/4 recipe or 2 tenders (140g)
Prep Time: 1 hour 30 minutes
Total Time: 2 hours
Nutrition Facts:  346 calories / 45g carbs / 32g protein / 6g fat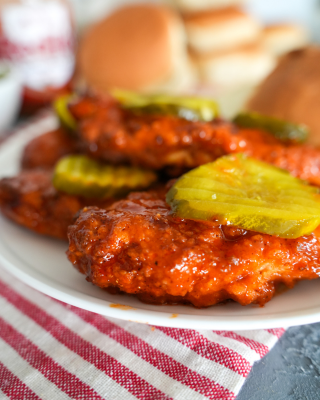 Ingredients:
Ingredients for Chicken:
16-ounces (454g) boneless, skinless chicken tenders
½ cup (122g) 2% milk
2 tablespoons "Frank's" red hot sauce (10 tablespoons divided)
1 cup (112g) "Progresso" plain breadcrumbs
½ cup (62.5g) all-purpose flour
1 teaspoon paprika (1 ½ teaspoons divided)
1 teaspoon salt
½ teaspoon garlic powder
½ teaspoon onion powder
¼ teaspoon black pepper
10 second spray olive oil cooking spray
Ingredients for Coating Sauce:
½ cup "Frank's" red hot sauce
3 (63g) tablespoons honey
½ teaspoon paprika
½ teaspoon chili powder
½ teaspoon cayenne pepper
Instructions:
Season chicken tenders with salt and pepper, as desired, and set aside.
In a bowl or deep dish, combine milk with 2 tablespoons of Frank's hot sauce and add the chicken. Cover and let sit refrigerated for 1 hour.
Preheat the air fryer to 375 degrees.
In another bowl, combine breadcrumbs, flour, 1 teaspoon paprika, salt, garlic powder, onion powder, and black pepper.
Take chicken out of the refrigerator and drain off excess liquid from the tenders. Toss each tender in the breadcrumb mixture, making sure they are evenly coated. The thicker the coating, the better!
Place chicken tenders in an air fryer basket that is greased or lined with parchment paper. Make sure chicken tenders are arranged on one layer and not touching each other to allow for proper air circulation and even frying. If your air fryer isn't big enough, consider cooking your chicken in two batches.
Spray chicken for 5 seconds with olive oil cooking spray, evenly coating the tenders.
Cook for 15 minutes, flipping and spraying for another 5 seconds with olive oil cooking spray halfway through.
Meanwhile, prepare the coating sauce by mixing together ½ cup of the Frank's Red Hot, honey, ½ teaspoon paprika, chili powder, and the cayenne pepper in a large bowl.
When chicken is done, remove from the air fryer and let cool on a rack for at least 5-10 minutes. It's important to let them cool before adding the sauce or the coating will get soggy.
When cooled, add the chicken tenders to the large bowl with the coating sauce and toss gently to coat evenly.
Served best with sweet pickles and a fresh bun! Macros not included.
Notes
This version is moderately spicy. If you prefer mild, eliminate the chili powder and cayenne pepper from the coating sauce.
For leftovers, reheat in the air fryer at 400 degrees for 3-4 minutes.