This dish packs yummy bacon and cheese flavors (with a slight jalapeno kick) into a healthy, low-carb chicken breast. Just wait until you slice into it to see that cheesy surprise!
Servings: 6 servings
Serving Size: 1/6 recipe or 1 stuffed chicken breast (319g)
Prep Time: 30 minutes
Total Time: 4+ hours
Nutrition Facts:  480 calories / 19g carbs / 49.5g protein / 13g fat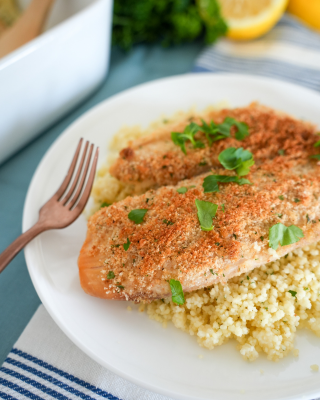 Ingredients:
6 (1008g) small boneless skinless chicken breasts
1, 10-ounce (283g) can "El Paso" mild green enchilada sauce
⅔ package/ 5 ¼-ounce (149g) "Philadelphia" ⅓ less fat cream cheese
1 cup (112g) "Kraft" shredded reduced fat cheddar cheese
¼ cup (28g) "Oscar Mayer" bacon bits
3 jalapeno (78g) peppers (seeded and minced)
1 large egg
1 cup (112g) plain breadcrumbs
1 ½ teaspoon salt (divided)
1 teaspoon ground black pepper
1 teaspoon garlic powder
Instructions:
Either the night before or 2 hours before cooking, prep the raw chicken breast by pounding them until they are ½ inches in thickness.
Place pounded chicken in an airtight container or Ziploc bag with enchilada sauce and let marinate in the refrigerator for at least 2 hours, or overnight.
When ready to cook, preheat the oven to 375 degrees and prep a baking sheet with foil. Take chicken out of the refrigerator.
In a bowl, mix together cream cheese, cheddar cheese, bacon bits, jalapenos, and ½ teaspoon of salt. Set aside.
In another bowl, beat the egg. And in another separate bowl, mix together the breadcrumbs, garlic powder, and remaining 1 teaspoon salt and pepper.
Spoon the cheese mixture onto the flattened chicken breast pieces and roll up, sealing with toothpicks.
Dip each chicken piece into the egg mixture, then into the breadcrumb mixture.
Place the chicken breasts on the baking sheet and bake for 30 minutes, until breadcrumbs are golden brown and cheese mixture is bubbling out.
Remove toothpicks and serve immediately. Top with additional fresh jalapenos or bacon pieces, as desired. Macros may vary.