This dinner recipe is just as quick as it is fresh due to its bright lemony taste! It comes together in under 30 minutes and is reminiscent of those delicious southern Italian flavors.
Servings: 4 servings
Serving Size: 1/4 recipe (282g – 124g couscous, 158g fish)
Prep Time: 15 minutes
Total Time: 30 minutes
Nutrition Facts:  427 calories / 40g carbs / 36g protein / 13.5g fat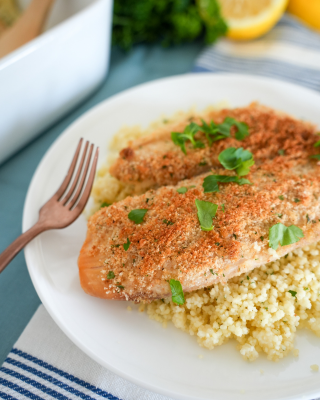 Ingredients:
4, 4-ounce (452g) tilapia filets
1 teaspoon salt
½ teaspoon ground black pepper
2 tablespoons (30g) lemon juice (divided)
2 teaspoons Dijon mustard
1 tablespoon (14g) butter
½ cup (56g) "Progresso" Italian style breadcrumbs
½ cup (56g) grated Parmesan cheese
1 box (170g) "Near East" Parmesan couscous
2 teaspoons olive oil
Instructions:
Preheat the oven to 425 degrees.
On a prepared baking sheet, season tilapia filets with salt and pepper.
In a small mixing bowl, whisk together 1 tablespoon of lemon juice and Dijon mustard and drizzle over fish, making sure to coat evenly.
In a microwave-safe bowl, heat the butter until just melted. Then mix in the breadcrumbs and Parmesan cheese until crumbly. Sprinkle on top of the filets.
Bake for 12 minutes.
Meanwhile, prepare couscous according to package directions.
When done, sprinkle with the remaining tablespoon of lemon juice. Fluff with a fork prior to serving.
Serve tilapia with couscous. Garnish with fresh parsley and a lemon slice, as desired.
Notes
You can substitute tilapia for another lean white fish such as cod or halibut.