Mmm, pie … America's favorite! These blueberry pie bars are delightfully chewy and bring a healthier vegan twist to everyone's favorite summer dessert.
Servings: 16 bars
Serving Size: 1 bar (59g)
Prep Time: 30 minutes
Total Time: 60 minutes
Nutrition Facts:   128 calories / 21.5g carbs / 1.5g protein / 5g fat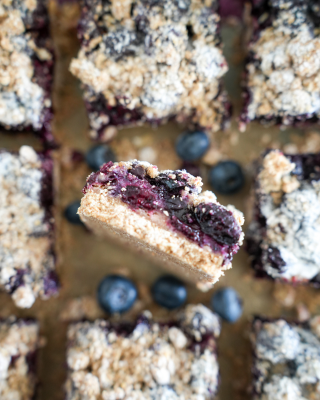 Ingredients:
Crust Ingredients:
1 cup (120g) whole wheat flour
½ cup (40g) old-fashioned oats
½ cup (110g) packed brown sugar
⅓ cup (74g) refined coconut oil (melted)
1 ½ teaspoons baking powder
¼ teaspoon salt
Filling Ingredients:
3 cups (420g) fresh or frozen blueberries (approximately one 18-ounce container)
1/4 cup (80g) pure maple syrup
1 tablespoon lemon juice
2 tablespoons (18g) arrowroot starch
1 teaspoon vanilla extract
¼ teaspoon salt
Instructions:
Preheat the oven to 350 degrees.
Line a 8×8-inch or 9×9-inch square baking dish with parchment paper or foil, leaving a 1-2 inch overhang around the sides.
In a food processor, pulse together the whole wheat flour, oats, brown sugar, coconut oil, baking powder and ¼ teaspoon salt, for the crust.
Press ¾ of the dough into the baking dish and bake for 10 minutes.
To make the filling, combine blueberries, maple, syrup, lemon juice, arrowroot, vanilla and the remaining ¼ teaspoon salt, in a large bowl and mix well.
Spoon over the top of the partially baked dough, then sprinkle with remaining ¼ of dough on top.
Bake for another 30 minutes or until the topping is golden brown and blueberries are bubbling.
Let cool for at least 30 minutes.
For best slicing results, refrigerate for at least 2 hours and then remove the bars from the pan using the paper or foil overhang and place on a cutting board.
Use a sharp knife to cut 16 even squares, wiping the knife between each cut to ensure clean lines.
Notes
If using frozen blueberries there is no need to thaw. Add 10 minutes to the final baking time.
Easily substitute unrefined coconut oil without changing the macros, although the dough will have a mild coconut flavor.