Veggies? Check. Lean protein? Check. Quick and easy? Check! This power meal checks all the right boxes and makes the perfect light lunch or snack to fuel your day.
Servings: 1 quesadilla
Serving Size: 1 quesadilla (230g)
Prep Time: 10 minutes
Total Time: 15 minutes
Nutrition Facts:  395 calories / 40g carbs / 30g protein / 12g fat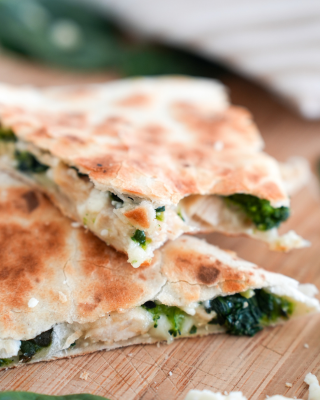 Ingredients:
1, 10-inch (70g) "Mission" flour tortilla
¼ cup (28g) shredded mozzarella cheese
2-ounces (56g) cooked chicken breast (diced)
¼ cup (20g) frozen chopped spinach
¼ cup (28g) frozen chopped broccoli
¼ cup (28g) "Athenos" crumbled feta cheese
Instructions:
On a flat surface, sprinkle the mozzarella cheese on one half of the tortilla. Top with the chicken, broccoli, spinach, and feta.
Heat a non-stick skillet over medium heat. Spray with nonstick cooking spray. Place the quesadilla on the skillet and cook for 3-5 minutes, without turning, or until the underside is golden brown.
Flip and cook for another 2-3 minutes on the other side. The quesadilla is ready when the cheese is melted and the tortilla is golden and crispy.
Notes
Feel free to use any brand of cheese and tortilla. The macros are generally very similar.
Time saver tip: buy pre-cooked chicken breast or use rotisserie chicken.