This easy one-pan skillet has all the flavor from your favorite Mexican restaurant…but it's 100% plant-based! Seitan, a meat substitute made from the main protein component of wheat, helps pack extra protein while staying low fat to help you hit your macros. Throw it together in less than half an hour for a perfect busy weekday meal.
Servings: 4 servings
Serving Size: 1/4 skillet (264g)
Prep Time: 15 minutes
Total Time: 30 minutes
Nutrition Facts:  226 calories / 27.5g carbs / 19.5g protein / 4g fat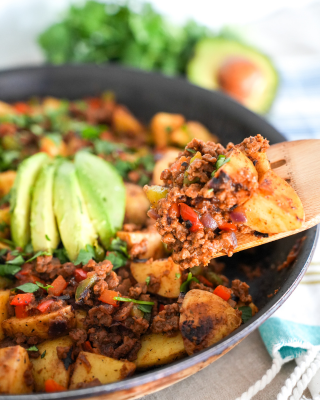 Ingredients:
1 tablespoon (14g) olive oil
12-ounces (340g) Yukon Gold potatoes (quartered)
1 small (94g) red onion (diced)
1 teaspoon salt
½ teaspoon ground black pepper
1 medium (114g) bell pepper (diced)
1 teaspoon ground cumin
1 teaspoon garlic powder
1 teaspoon onion powder
8-ounces (228g) "Upton's Naturals Grocery" chorizo seitan
5-ounce "El Paso" red enchilada sauce
Instructions:
In a large skillet over medium heat, add the olive oil. Once hot, add the diced potatoes, onions, salt, and pepper.
Stir to evenly coat, then spread to make sure they are in an even layer.
Cover with lid and cook for 15 minutes, stirring halfway through. Otherwise, let the potatoes sit undisturbed.
Remove the lid and increase heat to medium high. Add the bell pepper, cumin, garlic powder, and onion powder and cook for another 5 minutes, stirring occasionally.
Add the seitan crumbles and enchilada sauce and cook for another 5 minutes.
Serve hot and top with optional diced avocado and cilantro for an extra health boost! Macros may vary with toppings.
Notes
You can swap Yukon Gold potatoes for any other potatoes and the macro difference should be negligible as long as the potato weight is the same.
Substitute any variety of plant-based chorizo but know that macros may vary.
This recipe can easily be doubled.