Campfire s'mores is America's favorite treat. Bring this favorite outdoor dessert to the table instead with a crowd-pleasing pie version that uses healthier ingredients and less sugar for a smooth, chocolatey filling you won't be able to get enough of!
Servings: 12 slices
Serving Size: 1 slice (82g)
Prep Time: 30 minutes
Total Time: 2 hours 30 minutes
Nutrition Facts:  279 calories / 33.5g carbs / 6g protein / 13.5g fat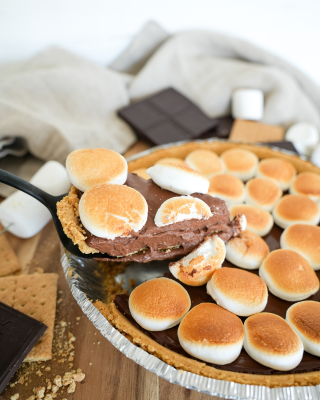 Ingredients:
1 crust (260g) "Keebler" 10-inch graham cracker ready crust
2 each (8-ounces/226g) "Lily's" dark chocolate baking bar
12-ounces (340g) silken tofu
2 tablespoons (31g) unsweetened vanilla almond milk
2 tablespoons (24g) sugar
2 tablespoons (10g) unsweetened cocoa powder
1 teaspoon vanilla extract
⅛ teaspoon salt
12 pieces (87g) "Kraft" Jet-Puffed Marshmallows
Instructions:
In a double boiler, melt the chocolate pieces until smooth. If using a microwave, heat in 30-second increments and stir until melted and smooth. Set aside.
In a food processor or high-speed blender, add tofu, almond milk, sugar, cocoa powder, vanilla extract, and salt. Blend until completely smooth.
Next, slowly add the melted chocolate into the tofu mixture until combined.
Pour chocolate mixture into prepared graham cracker crust dish, evening out the top. Refrigerate until set, at least 2 hours or up to 24 hours. You can also set it quicker in the freezer, but you will need to ensure it is thawed before serving.
When ready to serve, preheat the oven broiler and cut marshmallow pieces in half. Place the cut side down on top of the pie so that the marshmallow caps are facing up.
Place the pie on the top rack of the oven and broil for 30-60 seconds until marshmallows are just browned, keeping a careful eye on them so they don't burn. It happens quickly!
Cut into 12 slices and enjoy immediately, or keep chilled until ready to serve! S'mores pie can be kept in the refrigerator for up to 1 week.
Notes
You can make your own graham cracker crust by combining 10-12 crushed graham crackers and 4 tablespoons of refined coconut oil.
To make this dish vegan or vegetarian, swap out "Kraft" marshmallows with a plant-based option, or top with whipped coconut cream instead.