This 30-minute power bowl is so quick and easy, it might become part of your regular rotation. Fresh veggies, chicken breast, and a tangy peanut sauce dressing keep this healthy yet filling – perfect for a power lunch!
Servings: 2 bowls
Serving Size: 1 bowl (422g)
Prep Time: 25 minutes
Total Time: 30 minutes
Nutrition Facts:  534 calories / 59.5g carbs / 39.5g protein / 16g fat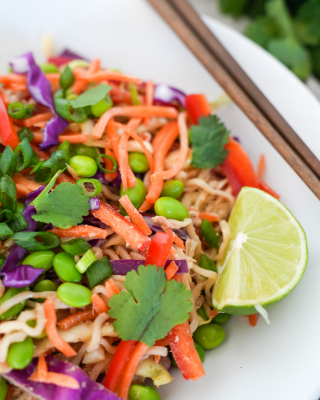 Ingredients:
Ingredients for Noodle Salad:
1 package (85g) "Nissin" ramen noodles
6-ounces (170g) precooked shredded chicken breast
1 cup (110g) napa cabbage (thinly sliced)
1 cup (110g) red cabbage (thinly sliced)
1 cup (110g) carrots (julienned)
1 cup (150g) shelled edamame
1 medium (114g) red bell pepper (julienned)
Ingredients for Sauce: 
1 tablespoon (16g) creamy peanut butter
4 tablespoon (56g) soy sauce
2 tablespoon (28g) rice vinegar
2 tablespoon (31g) chicken broth
1 tablespoon (21g) honey
2 teaspoon (4g) grated fresh ginger
2 teaspoon (13g) Sriracha sauce
Instructions:
Bring a pot of water to a boil and cook ramen noodles according to package directions, discarding the seasoning packet.
Meanwhile in a separate mixing bowl, whisk together peanut butter, soy sauce, rice vinegar, chicken broth, honey, ginger, and Sriracha for the dressing.
When the noodles are done, start assembling noodle salad by placing cooked noodles at the bottom of a bowl. Add shredded chicken, napa cabbage, red cabbage, carrots, edamame, and bell pepper.
Drizzle with peanut sauce dressing and mix well.
Garnish with extra peanuts, green onion, or cilantro and enjoy! Macros may vary with toppings.
Notes
To save even more time on this easy recipe, you can swap the peanut sauce for a store-bought version and bring your noodle salad on the go.
Use any variety of ramen noodles but know that macros may vary across brands.