Break up with refined sugars and make a date with these naturally sweetened Apple Pie Bars! Wholesome, delicious, and naturally gluten free, these date-based bars are the perfect, feel-good way to embrace the autumn spirit.
Servings: 12
Serving Size: 1 piece (84g)
Prep Time: 10 minutes
Total Time: 50 minutes
Nutrition Facts: 219 calories / 33g carbs / 3.5g protein / 8.5g fat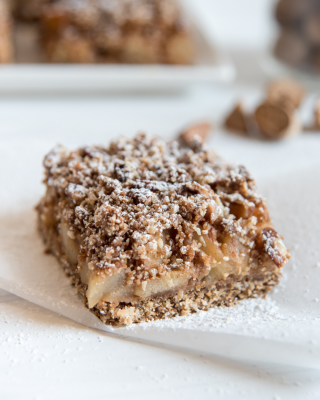 Ingredients:
4 (600g) medium apples (peeled, cored, and diced)
2 tablespoons (30g) lemon juice
¼ cup (62g) apple juice
1 teaspoon ground cinnamon
½ teaspoon vanilla extract
¼ teaspoon nutmeg
2 1/2 cups (225g) rolled oats
8 (192g) pitted medjool dates
3 tablespoons (42g) coconut oil
2 tablespoons (32g) almond butter
¼ teaspoon salt
¼ cup (32g) pecans (chopped)
Instructions:
Preheat the oven to 350 degrees F.. Grease and line an 8"x8" pan with enough parchment paper to leave a 1-inch overhang on each side.
Combine apples, apple juice, and lemon juice in a large saucepan over medium heat; bring to a simmer then reduce heat to medium-low. Cook, stirring occasionally, until most of the liquid has evaporated and the apples are tender but still hold their shape, 7-10 minutes. Remove from heat and gently stir in cinnamon, vanilla, and nutmeg.
While the apples are cooling, combine oats, dates, coconut oil, almond butter, and salt in a food processor. Process until the mixture reaches a sandy consistency that can hold its shape when pinched between the fingertips.
Press 2/3 of the oat-date crumble into the bottom of the prepared baking dish and top with apples. Stir chopped pecan pieces to the reserved crumble and scatter evenly on top of apples.
Bake for 30-35 minutes, or until the crust is golden brown and fragrant. Allow bars to cool completely in the pan.
Slide a knife or small offset spatula around the edges of the pan. Grabbing both sides of the parchment paper overhang, lift the bars out of the pan and transfer to a cutting board. Slice into 12 pieces and dust with powdered sugar, if desired (macros will vary).
Notes:
When it comes to choosing apples for baking, not all apples are created equal! Some apples that are perfect for snacking lose their shape and turn to mush when exposed to heat. For this recipe, we recommend apples that hold their shape well, such as Braeburn, Cortland, Granny Smith, Honey Crisp, or Golden Delicious (or a combination).
Apple pie bars may be kept in the refrigerator in an airtight container for up to 5 day
---
Some of the links above are affiliate links, which may earn Macrostax a commission at no extra cost to you.