Latkes are wonderfully crisp on the outside and tender on the inside. Top them with sour cream for a savory side dish, or applesauce for a sweet pairing.
Servings: 18
Serving Size: 1 latke (30g)
Prep Time: 20 minutes
Total Time: 1 hour
Nutrition Facts: 108 calories / 11g carbs / 1.5g protein / 6.5g fat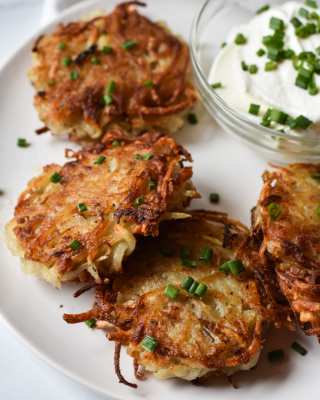 Ingredients:
2 large (814g) russet potatoes (peeled and shredded)
½ medium (125g) yellow onion (grated)
1 (50g) egg
2 tablespoons (15g) panko crumbs
½ teaspoon salt
½ cup (112g) vegetable oil
Optional: sour cream or applesauce for serving
Instructions:
Line a large bowl with a clean towel and add shredded potatoes and onions. Use the towel to remove as much liquid as possible, then transfer the potatoes and onions to a clean bowl.
Add egg, panko crumbs and salt to the bowl with the potatoes and onions, mix well. Let rest for 10 minutes.
Meanwhile, heat oil over medium to medium-high heat in a standard size cast iron skillet. Line a plate with paper towels and set aside.
Use a 1-2 tablespoon measuring spoon to portion batter into latkes (about 30 grams each) and use your hands to slightly flatten (and round edges as needed) before dropping into the hot skillet. You should be able to fit at least 3 per batch. Cook until dark brown (about 5 minutes per side).
As the latkes finish cooking, transfer them to the plate to cool slightly and soak up some of the excess oil.
Garnish with chives and serve immediately with sour cream or applesauce, if desired (macros not included).
Notes:
If a food processor is available, use the shredder attachment to prep the potatoes and onions. A box grater can also be used for this step.
To be conservative, the macro calculations for this recipe includes the vegetable oil. However, it is likely that there will be leftover oil in the pan after cooking.
---
Some of the links above are affiliate links, which may earn Macrostax a commission at no extra cost to you.