This creamed spinach is the perfect healthy addition to your holiday tables.
Servings: 8
Serving Size: ⅓ cup (105 grams)
Prep Time: 10 minutes
Total Time: 20 minutes
Nutrition Facts: 105 calories / 7.5g carbs / 5.5g protein / 6g fat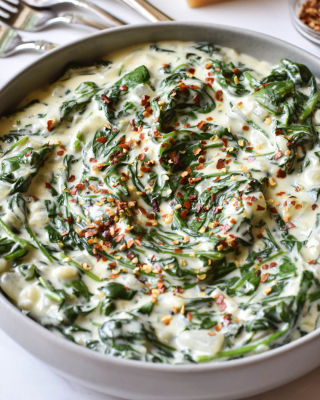 Ingredients:
1 tablespoon olive oil
½ large (85g) yellow onion (finely diced)
2 cloves garlic (minced)
2 tablespoons (18g) flour
1 cup (245g) nonfat milk
4-ounces (114g)"1/3 less fat" cream cheese
½ cup (28g) fresh grated Parmesan cheese
¼ teaspoon crushed red pepper flakes (optional)
⅛ teaspoon ground nutmeg
16 ounces (448g) raw baby spinach
½ teaspoon salt
¼ teaspoon ground black pepper
Optional garnishes: extra red pepper flakes and grated parmesan cheese
Instructions:
Heat oil in a large high-sided skillet or dutch over medium heat.
Add onion and sauté until translucent (about 3-4 minutes). Then add garlic and sauté until fragrant without letting it burn (less than one minute). Add a pinch of salt and stir.
Sprinkle flour over the top and stir until onions are well coated.
Gradually pour in the milk, and whisk. Add the cheeses along with the red pepper flakes and ground nutmeg, whisking constantly until the mixture is melted, thick and creamy. Decrease the heat to low.
Add spinach and fold it into the sauce until wilted and bright green. Season with salt and pepper.
Notes:
This will seem like a ton of spinach, and it is! Use a big skillet or dutch oven and add it gradually if needed.
You can also make this recipe with frozen spinach, just make sure to remove as much of the liquid as possible by draining and squeezing out the excess with a clean towel.