When it comes to hearty and wholesome breakfast options, these pumpkin and dark chocolate harvest muffins can't be beat! Ancient grains and autumnal flavors come together quickly to make a perfectly moist muffin that nourishes body and soul.
Servings: 12 muffins
Serving Size: 1 muffin (60g)
Prep Time: 5 minutes
Total Time: 25 minutes
Nutrition Facts: 178 calories / 21.5g carbs / 6g protein / 7.5g fat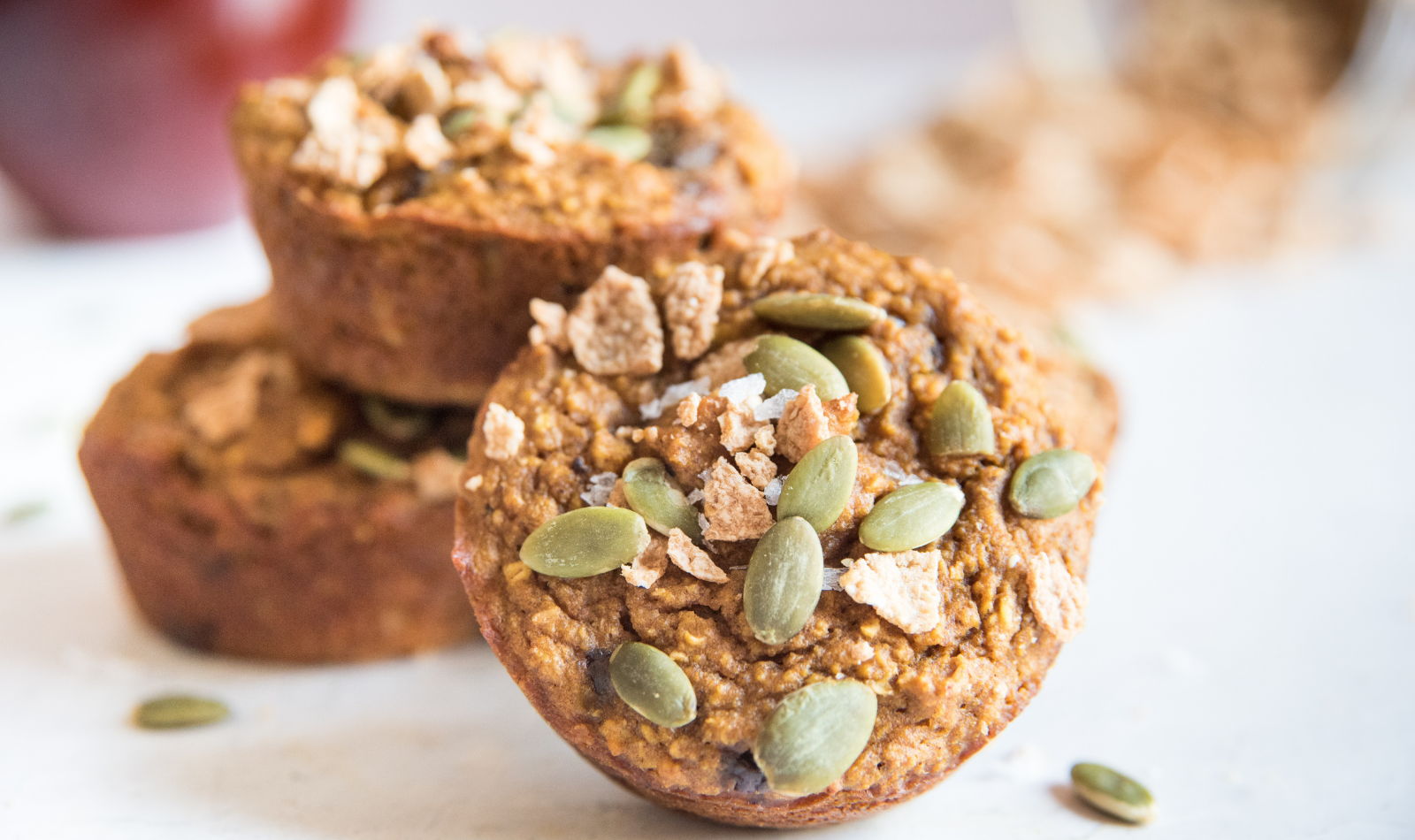 Ingredients:
1 ⅓ cup (120g) rolled oats
½ cup (40g) quick oats
½ cup (56g) almond flour
2 large (100g) eggs
6-ounces (170g) nonfat Greek yogurt
¾ cup (184g) pumpkin puree
¼ cup (80g) maple syrup
2 teaspoons pumpkin pie spice
1 teaspoon baking soda
½ teaspoon salt
½ cup (112g)"Nestle Toll House" bittersweet chocolate chips (roughly chopped)
Instructions:
Preheat the oven to 350 degrees. Grease a standard muffin tin with nonstick cooking spray.
In the bowl of a food processor or blender, pulse together rolled oats and quick oats until it reaches the consistency of coarse flour. Add almond flour, eggs, yogurt, pumpkin, maple syrup, pumpkin spice, baking soda, and salt and pulse to combine.
Stir in chocolate chunks then divide batter evenly between prepared muffin tins. Top with additional oats or pumpkin seeds, if desired.
Bake for 17-20 minutes or until a toothpick inserted into the center of a muffin comes out clean.
Serve warm with a sprinkle of sea salt, if desired.
Notes:
To make a heartier muffin, substitute the quick oats with 1 ½ cups (60g) 'Nature's Path' Heritage Flakes cereal or ½ cup (64g) quinoa flakes (for a gluten-free option) and follow the recipe as written. Macros will vary.
Muffins are best eaten fresh, but will keep at room temperature in an airtight container for up to 4 days.
To freeze, arrange baked and cooled muffins in a single layer on a plate or baking sheet and freeze until solid (about 30 minutes). Place frozen muffins in an airtight freezer bag, taking care to squeeze out as much air as possible. Harvest muffins will keep frozen for up to three months. To thaw, allow the muffins to sit at room temperature or microwave on high in 15-20 second bursts.
---
Some of the links above are affiliate links, which may earn Macrostax a commission at no extra cost to you.