No need to head to the bakery – start your morning at home with a little citrus sunshine! These cheerful lemon poppy seed muffins will keep you fueled, full, and ready to take on the day!
Servings: 9
Serving Size: 1 muffin (96g)
Prep Time: 10 minutes
Total Time: 45 minutes
Nutrition Facts: 280 calories / 36g carbs / 10.5g protein / 10.5g fat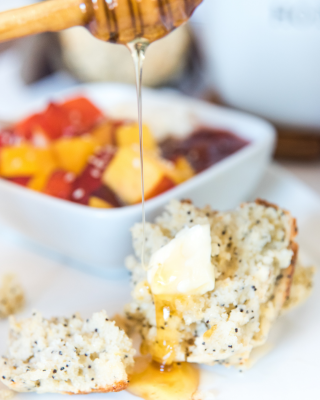 Ingredients:
2 cups (250g) all-purpose flour
2 tablespoons (17g) poppy seeds
2 teaspoons baking powder
½ teaspoon baking soda
½ teaspoon salt
1 cup (226g) low fat cottage cheese
½ cup (100g) sugar
⅓ cup (72g) coconut oil (melted)
¼ cup (61g) unsweetened applesauce
1 (50g) egg
2 (66g) egg whites
2 tablespoons (30g) lemon juice
1 tablespoon lemon zest
1 teaspoon vanilla extract
Instructions:
Preheat the oven to 375 degrees and line a standard muffin pan with 9 paper liners.
In a large bowl, whisk together flour, protein powder, poppy seeds, baking powder, baking soda, and salt. Set aside.
Place cottage cheese, sugar, coconut oil, applesauce, egg, egg whites, lemon juice, lemon zest, and vanilla in the bowl of a food processor and puree until smooth.
Pour the cottage cheese mixture into the dry ingredients and fold until just combined (the batter will be thick). Divide evenly between the muffin liners and bake for 25-27 minutes, or until the tops are golden and a toothpick inserted into the center comes out clean.
Let muffins cool in the pan for 5 minutes before transferring to a cooling rack to cool completely.
Notes:
Consider serving with Greek yogurt and fresh fruit for a well-rounded breakfast (macros not included).
If fresh lemons are unavailable, 2 teaspoons of lemon extract can be used in place of the lemon zest. Substitute the lemon juice with ½ teaspoon vinegar.
Muffins can be stored at room temperature in an airtight container for up to 3 days.
To freeze, arrange baked and cooled muffins in a single layer on a plate or baking sheet and freeze until solid (about 30 minutes). Place frozen muffins in an airtight freezer bag.. Lemon poppy muffins will keep frozen for up to three months. To thaw, allow the muffins to sit at room temperature or microwave on high in 15-20 second bursts.
If you decide to use Optimum Nutrition products you can use code "MACROSTAX" for 20% off your purchase!
---
Some of the links above are affiliate links, which may earn Macrostax a commission at no extra cost to you.