Fire up the grill with this ultra simple and decadent tri tip steak topped with a flavor-packed chimichurri! A soy sauce and brown sugar marinade pairs beautifully with the herbaceous sauce.
Servings: 4
Serving Size: 4 ounces steak (114g) + 2 tablespoons (35g) sauce
Prep Time: 1 hour
Total Time: 1 hour 30 minutes
Nutrition Facts: 272 calories / 4.5g carbs / 33.5g protein / 13g fat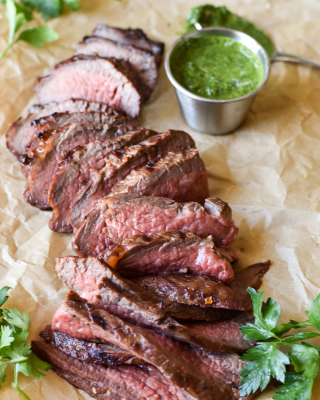 Ingredients:
¼ cup (56g) soy sauce
1 tablespoon (14g) brown sugar
½ teaspoon crushed red pepper flakes (optional)
16 oz (454g) tri tip steak (vs raw flank steak)
1 cup (30g) cilantro
1 cup (30g) flat-leaf parsley
¼ cup (60g) red wine vinegar
2 cloves garlic
1 tablespoon olive oil
¼ teaspoon salt
Optional garnishes: additional fresh herbs
Instructions:
Prepare the steak: whisk soy sauce, brown sugar and red pepper flakes (if using) in a bowl and transfer to a gallon size zip top bag. Add steak to bag and seal top. Shake to evenly distribute sauce and let marinate in the refrigerator for one hour.
Meanwhile, make the chimichurri sauce. To a large wide-mouth mason jar, add herbs, garlic, oil, vinegar and salt. Pulse a stick blender several times until herbs are finely chopped and ingredients are thoroughly combined into a spoonable sauce. Set aside. Alternatively, the sauce can be combined in a standard blender or food processor.
Preheat the grill to high.
Grill steak until it reaches desired doneness (145° F for medium) about 8-10 minutes per side (depending on thickness), basting with remaining marinade while it cooks. Transfer to a cutting board and let rest for 15 minutes.
Slice steak against the grain, transfer to a serving platter, and serve with chimichurri sauce.
Notes:
Any combination of tender herbs can be substituted in the sauce. Consider using basil or dill if parsley or cilantro are unavailable.