Make one of your favorite restaurant dishes at home with this easy poke bowl recipe! Spicy ahi tuna, rice, a simple Sriracha mayonnaise, and plenty of toppings make for a flavorful lunch or light dinner that will fill you up without weighing you down. Poke bowls are incredibly versatile and are easily customized, so feel free to go wild with your own healthy garnishes and sides.
Servings: 4
Serving Size: 1 poke bowl (416g)
Prep Time: 5 minutes
Total Time: 20 minutes
Nutrition Facts: 461 calories / 37.5g carbs / 43.5g protein / 15.5g fat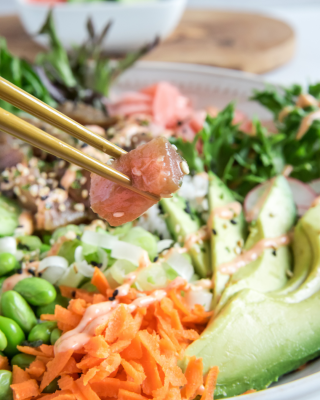 Ingredients:
1 pound (454g) sushi-grade ahi tuna
2 tablespoons (28g) soy sauce
1 tablespoon rice wine vinegar
1 teaspoon sesame oil
1 clove garlic (minced)
1 teaspoon grated fresh ginger
¼ cup (25g) green onions (sliced)
1 tablespoon sesame seeds
2 tablespoons (30g) light mayo
2 teaspoons Sriracha sauce
2 cups (316g) cooked white rice
1 (200g) avocado (sliced)
1 cup (150g) shelled edamame (thawed)
2 medium (400g) cucumbers (sliced)
Instructions:
If tuna is not already cut, use a sharp knife to dice into 1-inch cubes.
In a small bowl, whisk together soy sauce, rice vinegar, sesame oil, garlic, and ginger. Add tuna, green onion, and sesame seeds and stir to coat. Cover and place in the fridge to marinate for 10-30 minutes.
While the fish is marinating, whisk together mayonnaise and Sriracha. Set aside.
To serve, divide rice evenly among 4 bowls. Rice can be warm or room temperature. Divide fish, avocado, edamame, and cucumber between the bowls. Drizzle with spicy mayo and garnish with additional sesame seeds, soy sauce, scallions, and suggested garnishes, if desired (see notes as macros will vary).
Notes:
When making poke, it's important to source sushi-grade fish. Fresh or frozen sushi-grade fish can be found at higher-end grocery stores and fish markets. Alternatively, flash-frozen fish can be purchased from online retailers such as Freshseas.com.
This recipe is also delicious with fresh salmon, but please note the higher fat content and that macros will vary.
Additional suggested toppings for your poke bowl include: pickled ginger, seaweed salad, imitation crab, shredded carrot, shredded cabbage, sliced radish, mango, microgreens… and more! Macros will vary across garnishes.
Poke is best eaten the day it's made, but the marinated fish can be stored separately, well-covered in the fridge for up to two days
Feel free to use white or brown rice for this, or, make your poke bowl extra flavorful and pair it with Macrostax's coconut rice!