If you love spinach artichoke dip, you're going to love this version of mac and cheese. It's packed with flavor, uber creamy, and incredibly satisfying. Perfect for a cozy evening at home with the whole family.
Servings: 8
Serving Size: 1 heaping cup (184g)
Prep Time: 15 minutes
Total Time: 30 minutes
Nutrition Facts: 312 calories / 36 carbs / 17.5g protein / 11g fat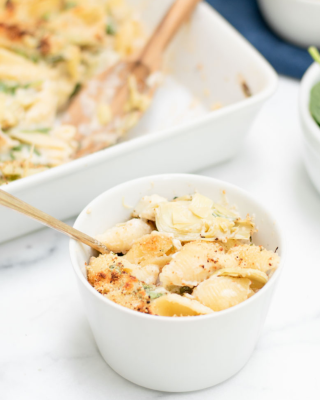 Ingredients:
10 ounces (283g) shell-shaped pasta
2 tablespoons butter
¼ cup (31g) flour
1 teaspoon garlic powder
1 teaspoon onion powder
2 cups (490g) nonfat milk
2 cups (224g) reduced-fat shredded sharp cheddar cheese
½ cup (113g) plain nonfat Greek yogurt
¼ cup (28g) grated Parmesan cheese (divided)
2 cups (60g) packed baby spinach
1 14-ounce can (240g dry wt) quartered artichoke hearts in water (drained)
2 tablespoons (14g) Italian-style bread crumbs
Instructions:
Preheat the oven to 350 degrees. Prepare medium (about 8 x 11-inch) baking dish with nonstick cooking spray.
Cook the pasta according to package directions. Drain and set aside.
While pasta is cooking, heat butter in a large pot until melted. Whisk in flour, garlic powder, and onion powder until combined. Slowly add in milk and whisk until flour is dissolved and it begins to thicken, about 3 minutes.
Remove the pot from heat and stir in cheddar cheese, yogurt, and 2 tablespoons Parmesan cheese until ingredients are well mixed. Add pasta, spinach, and artichokes, to the cheese sauce and stir until well combined and spinach begins to wilt.
Transfer the pasta mixture to the prepared baking dish and top with the remaining 2 tablespoons Parmesan cheese and bread crumbs
Bake for 15 minutes until heated through and bubbly.
Notes:
Store leftovers in an airtight container in the fridge for up to 3 days or in the freezer for up to 3 months. Reheat in the microwave or oven.