This savory breakfast bowl combines all of your classic diner favorites, with plenty of colorful vegetables added in.
Servings: 1
Serving Size: 1 bowl (362g)
Prep Time: 5 minutes
Total Time: 30 minutes
Nutrition Facts: 340 calories / 20.5g carbs / 24g protein / 17.5g fat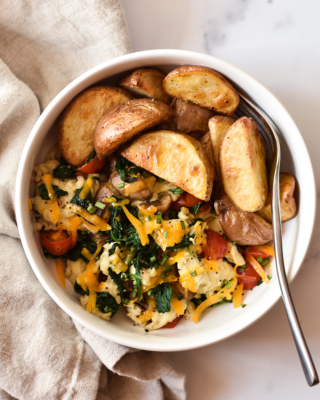 Ingredients:
4 mini (75g) yellow potatoes (sliced into wedges)
2 teaspoons olive oil (divided)
4 (65g) button mushrooms (stems removed and quartered)
¼ cup (38g) grape tomatoes (halved)
1 cup (30g) raw baby spinach (thinly sliced)
1 egg (50g)
2 egg whites (66g)
2 thin slices (25g) Black Forest ham (torn into small pieces)
1 tablespoon shredded cheddar cheese
Optional garnishes: chives, hot sauce
Instructions:
Preheat the oven (or toaster oven) to 425 degrees.
Toss potatoes with 1 teaspoon of olive oil and spread on a parchment-lined baking sheet. Season with salt and pepper to taste. Roast for 25 minutes, flipping halfway through, until browned and tender when pierced with a fork.
Meanwhile, heat remaining 1 teaspoon of olive oil in a small nonstick skillet. Add mushrooms and cook for about 5 minutes until softened. Push to the side and add tomatoes and spinach. Cook another 2-3 minutes, stirring occasionally, until vegetables are tender and spinach is wilted. Transfer to a plate, letting any juices and flavor bits remain..
Heat the same skillet over medium low. Whisk egg and egg whites together in a small bowl, then dump into the skillet. Use a spatula to occasionally push eggs around the pan until completely set.
Fold vegetables and ham into scrambled eggs, then plate with the potatoes and top with the shredded cheese. Season with salt and pepper to taste. Optional garnishes include chives and hot sauce (macros will vary slightly).
Notes:
Customize the vegetables based on what you have on hand. This is a great "clean out the refrigerator" meal. Macros will vary slightly with substitutions or additions.