This juice-free sangria is a refreshing low sugar cocktail, perfect for outdoor summer parties.
Servings: 6
Serving Size: 6 ounces (240g)
Total cooked weight: n/a
Prep Time: 15 minutes
Total Time: 1 hour 15 minutes
Nutrition Facts: 163 calories / 21g carbs / 1g protein / 0g fat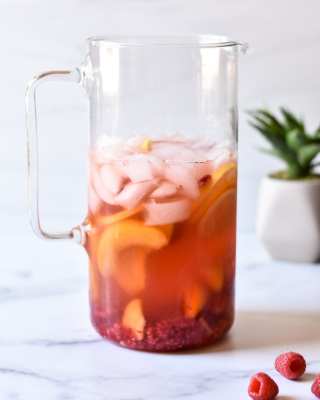 Ingredients:
1 cup (125g) fresh raspberries
1 cup (135g) frozen peaches (135g)
1 large (107g) lemon (sliced into rounds)
2 tablespoons sugar
750 ml bottle rosé wine
¼ cup (32 grams) Grand Marnier (or other orange liqueur)
6 ounces sparkling water
Optional garnishes: additional berries, mint leaves, edible flowers
Instructions:
Add raspberries, peaches and lemon slices to a large pitcher and top with sugar. Stir gently until the fruit is coated and let sit for at least 30 minutes.
Pour wine and Grand Marnier over the top and stir. Refrigerate for at least an hour, but no more than two hours (the lemon can start to taste bitter).
When ready to serve, pour 5 ounces of the sangria over ice (including some wine-soaked fruit) and top with one ounce of sparkling water.
Notes:
Use a dry rosé wine for optimal flavor and balance.
Substitute any fresh, seasonal berries for the raspberries.