Turn store-bought puff pastry into a delicious homemade dessert with this quick and easy recipe. Serve your turnovers for dessert, as an afternoon pick-me-up, or pack them up for your next picnic lunch!
Servings: 8
Serving Size: 1 apple turnover (120g)
Prep Time: 15 minutes
Total Time: 1 hour
Nutrition Facts: 342 calories / 44g carbs / 4g protein / 16.5g fat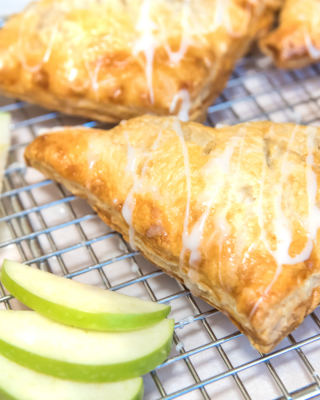 Ingredients:
1 package (490g) 'Pepperidge Farm' puff pastry sheets
1 tablespoon (14g) unsalted butter
1 ¼ pounds (568g) Granny Smith apples (peeled and diced)
¼ cup (48g) 'Truvia' brown sugar blend
1 tablespoon (15g) fresh lemon juice
1 teaspoon ground cinnamon
¼ teaspoon nutmeg
¼ teaspoon salt
1 tablespoon (8g) flour (for dusting)
1 (33g) egg white
2 teaspoons water
½ cup (60g) powdered sugar
2 teaspoons low-fat buttermilk
Instructions:
Preheat the oven to 400 degrees and line two baking sheets with silicone liners or parchment paper. Remove the puff pastry from the freezer and allow it to thaw according to the manufacturer's instructions.
Melt butter in a large pan over medium heat. Add diced apples and cook for 6-8 minutes, stirring occasionally, until the apples begin to soften. Add brown sugar blend, lemon juice, cinnamon, nutmeg, and salt and stir until the apples are well coated. Continue to cook for an additional 3-4 minutes, stirring frequently, until the apples start to caramelize. Remove apples from heat and set aside to cool as the puff pastry is prepared.
Dust a clean work surface lightly with half of the flour and unfold the first sheet of puff pastry. Using a rolling pin, carefully roll out the puff pastry into an 11" square. With a knife or pizza cutter, cut the pastry sheet into 4 smaller squares. Repeat this process with the second sheet of pastry.
Carefully spoon 1/8 of the apple mixture (about 1 heaping tablespoon) into the center of each square. Whisk together egg whites and water and brush the mixture along the border of the pastry. This will help to seal the dough and prevent the juices from leaking out.
Fold the puff pastry diagonally over the apple filling to form a triangle and crimp the edges together with a fork. Cut three small ventilation slits on the top of each turnover, transfer to prepared baking sheets, and place in the refrigerator to chill for at least 20 minutes or up to 2 hours.
Remove turnovers from the fridge, brush with remaining egg wash and bake for 23-25 minutes or until the dough is puffed and golden.
Mix powdered sugar with buttermilk and drizzle over the warm apple turnovers.
Notes:
Buttermilk will add a nice tang to the glaze, but any milk available can be substituted (macros may vary slightly).
Apple turnovers can be frozen for up to 4 months and baked at a later date. Prepare turnovers as instructed and place them on a baking sheet in the freezer instead of the refrigerator. Once the turnovers are frozen and the dough no longer feels tacky, transfer to a freezer-safe Ziploc bag. Frozen turnovers can be baked from frozen in a 400 degree oven for 25-28 minutes.
---
Some of the links above are affiliate links, which may earn Macrostax a commission at no extra cost to you.