This upgraded chicken and rice dish is a light and fresh summer meal full of flavor from the citrus and herbs. It's easy to make on the grill (or in the oven) and makes great leftovers for lunch.
Servings: 4
Serving Size: 3-ounce (cooked) chicken breast (106g) with 3/4 cup (296g rice)
Prep Time: 10 minutes
Total Time: 45 minutes including time to marinate chicken
Nutrition Facts: 305 calories / 38g carbs / 28g protein / 4.5g fat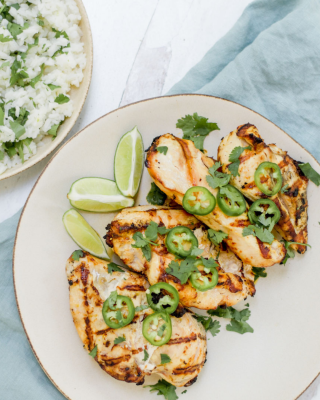 Ingredients:
Chicken
1 pound (454g) skinless, boneless chicken breast
2 tablespoons (31g) fresh lime juice
2 teaspoons lime zest
2 garlic cloves (minced)
1 teaspoon olive oil
1 jalapeno (minced, seeds removed)
¼ teaspoon salt
Rice
1 cup (180g) uncooked jasmine rice
2 cups (474g) water
½ cup (8g) fresh cilantro (chopped)
2 tablespoons (31g) fresh lime juice
2 teaspoons lime zest
2 teaspoons olive oil
Instructions:
Portion chicken into four, 4-ounce portions. Place chicken in a large container or bowl. Whisk together lime juice, lime zest, garlic, olive oil, jalapeno and salt. Pour marinade over chicken, cover, and put in the refrigerator to marinate for at least 15-30 minutes. This can be done up to 24 hours in advance.
Meanwhile, cook the rice. Combine rice and water in a medium saucepan. Bring to a boil then reduce heat to simmer. Cook, uncovered, for 15-18 minutes, until all water is absorbed, stirring occasionally.
When rice is cooked, fluff with a fork and place in a serving bowl. Toss with cilantro, lime juice, lime zest, olive oil. Season with salt to taste.
When ready to cook the chicken, heat the grill to medium-high. Cook the chicken at about 450 degrees for 8 minutes, then flip over and cook for another 7-8 minutes, until the internal temperature of the chicken reaches 165 degrees. Cooking time will vary depending on the thickness of the chicken pieces.
Serve chicken with rice. Optional garnishes and toppings include fresh ground pepper, additional jalapeno slices, cilantro, or a lime wedge.
Notes:
No grill? Use the oven. Preheat your oven to 400 degrees. Place chicken in a baking dish with marinade and bake for 20-25 minutes, flipping halfway through, until the internal temperature of chicken is 165 degrees.
Store leftovers in an airtight container in the fridge for up to 3 days.