These cake-inspired donuts are baked instead of fried. They're also made with whole grains for an extra dose of fiber and less fat than traditional recipes. The addition of rainbow sprinkles makes them worthy of a celebration!
Servings: 6
Serving Size: 1 donut, 44g
Prep Time: 10 minutes
Total Time: 30 minutes
Nutrition Facts: 186 calories / 31.5g carbs / 4.5g protein / 5.5g fat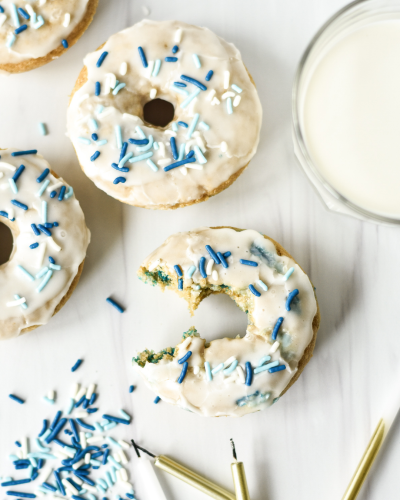 Ingredients (donuts):
¾ cup (90g) whole wheat pastry flour
¾ teaspoon baking powder
¼ teaspoon baking soda
¼ teaspoon salt
⅛ teaspoon ground cinnamon
3 tablespoons (36g) sugar
¼ cup (64g) 4% "Siggi's" yogurt
1 large (50g) egg
1 ½ tablespoons (21g) melted butter
2 tablespoons (32g) nonfat milk
½ teaspoon vanilla extract
½ teaspoon almond extract (optional)
Ingredients (icing):
½ cup (60g) confectioner's sugar
1 tablespoon (16g) skim milk
2 tablespoons (21g) rainbow sprinkles
Instructions:
Preheat the oven to 350 degrees. Prepare a standard six-count donut pan with nonstick cooking spray.
Add dry ingredients of flour, baking powder, baking soda, salt, and cinnamon to a medium bowl and whisk until well-combined.
Combine sugar, yogurt, butter, 2 tablespoons of nonfat milk, vanilla extract, and almond extract (optional) to a large bowl and whisk until well-combined.
Gradually add dry ingredients to wet and use a spatula to incorporate, taking care not to overmix.
Transfer batter to a gallon-size zip top bag. Snip the corner and pipe into the donut pan, evenly distributing.
Bake for 8 minutes or until lightly browned.
Meanwhile, prepare the icing. Add confectioner's sugar and 1 tablespoon skim milk to a small bowl and use a fork or mini whisk to mix until smooth.
Once donuts finish cooking, transfer to a wire rack and allow them to cool. Dip each donut in the icing and place back on the cooling rack (place a piece of parchment paper underneath to catch any drips). Dip a second time for a thicker layer of icing. Top with sprinkles.
Notes:
Whole wheat pastry flour is more nutritious and less processed than enriched white flour, but still contributes a lighter texture to this recipe. If it is unavailable, substitute white wheat flour.
Use any favorite milk or alternative milk in place of the skim milk (macros will vary with substitutions).
Optional: add 2 tablespoons of sprinkles to the batter for a more funfetti look (macros will vary).
Donuts are best served immediately. Store any leftovers in an airtight container and consume within one day.
---
Some of the links above are affiliate links, which may earn Macrostax a commission at no extra cost to you.