This tropical meal will make you feel like you're on an island! The Cajun-seasoned fish brings a tiny bit of heat, which pairs perfectly with the sweet and citrusy mango salsa.
Servings: 4
Serving Size: 1 3.6-oz (cooked) tilapia filet with 1 scant cup salsa (118g)
Prep Time: 10 minutes
Total Time: 20 minutes
Nutrition Facts: 210 calories / 17.5g carbs / 21g protein / 6.5g fat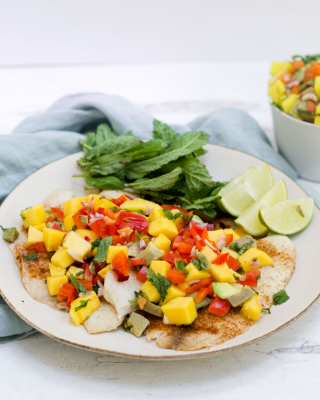 Ingredients:
Tilapia
1 pound (448g) tilapia (portioned into 4, 4-ounce filets)
1 tablespoon (15g) fresh lime juice
1 teaspoon Cajun seasoning
Mango Salsa
1 ½ cups (200g) mango (cut into ¼ inch cubes)
1 cup (138g) red bell peppers (diced)
½ cup (50g) avocado (diced)
⅓ cup (29g) red onion (diced)
3 tablespoons fresh chopped mint leaves
2 tablespoon (31g) fresh lime juice
2 teaspoons olive oil
1 teaspoon honey
Optional toppings: additional chopped mint, lime wedge for squeezing
Instructions:
Preheat the oven to 350 degrees.
Place tilapia filets on a nonstick baking sheet, evenly pour 1 tablespoon lime juice over filets. Sprinkle Cajun seasoning evenly over fish. Bake for 10 minutes, until fish easily flakes with a fork.
While the fish is cooking, make the salsa. Combine mango, red pepper, avocado, onion, and mint in a medium bowl and stir to combine. Whisk together the remaining 2 tablespoons lime juice, olive oil, and honey. Season with salt and pepper to taste. Pour over salsa and toss until all ingredients are evenly coated.
When fish is cooked, serve each filet topped with salsa. Garnish with additional mint or a lime wedge (macros will vary).
Notes:
If a spicier flavored fish is desired, increase the Cajun seasoning. This will not change the macros.
For easy clean-up, line the baking sheet with parchment paper before baking the fish.
Store in an airtight container for up to 2 days. Enjoy the leftover fish cold as it does not reheat well.