Strawberry is the star of this summery dessert, which features fluffy white cake, fresh fruit puree, and a light-as-air whipped topping!
Servings: 12
Serving Size: 1 slice (196g)
Prep Time: 20 minutes
Total Time: 2 hours
Nutrition Facts: 287 calories / 55.5g carbs / 6g protein / 4.5g fat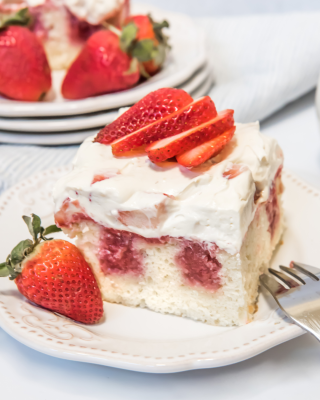 Ingredients:
1 (460g) box 'Betty Crocker' white cake mix
1 (50g) large egg
3 (99g) large egg whites
1 cup (226g) plain nonfat Greek yogurt
3/4 cup (178g) water
2 pounds (908g) fresh strawberries (chopped and divided)
½ cup (100g) white sugar
1 tablespoon (15g) lemon juice
1-1 ounce (28g) package Jell-O instant sugar-free, fat-free vanilla pudding mix
1 cup (245g) fat-free milk
1 teaspoon vanilla extract
1-8 ounce (227g) container 'Cool Whip' light whipped topping (thawed)
Instructions:
Preheat the oven to 350 degrees and spray a 9"x13" pan with nonstick cooking spray. (If using a nonstick pan, preheat oven to 325 degrees).
Combine cake mix, egg, egg whites, Greek yogurt, and water with mixer on medium speed or beat vigorously by hand for 2 minutes. Pour the batter into the prepared pan and bake for 30-33 minutes, or until the cake is springy to the touch and a toothpick inserted into the center comes out clean.
While the cake is cooling, puree 1 ½ pounds (680g) of the strawberries in a food processor or blender and pour into a saucepan with the sugar and lemon juice. Cook over medium heat, stirring occasionally, until the mixture comes to a boil. Boil for three minutes, remove from heat, and set aside.
Once the cake has cooled at least 20 minutes, use the handle of a wooden spoon (or even your finger!) to poke holes every inch or so along the top of the cake, being careful not to poke all the way through to the bottom. Pour the strawberry puree over the top of the cake, tapping the pan lightly on the counter to knock out any air bubble that might prevent the puree from soaking into the holes.
Cover the cake and refrigerate until completely cooled.
To make the whipped topping, whisk the pudding mix, milk, and vanilla together for 2 minutes until the mixture has thickened. Fold in the Cool Whip, followed by the remaining chopped strawberries, and spread the mixture over the top of the cake.
Keep the cake refrigerated until ready to serve. Garnish with additional strawberries, if desired (macros not included).
Notes:
If fresh strawberries are unavailable, use thawed frozen strawberries for the berry puree and omit the strawberries from the whipped topping.
Cake will keep, covered tightly, in the refrigerator for up to four days.
---
Some of the links above are affiliate links, which may earn Macrostax a commission at no extra cost to you.